Michael West, Habib Naqvi and Yvonne Coghill outline measures to implement the values of compassion and inclusion across the whole of the NHS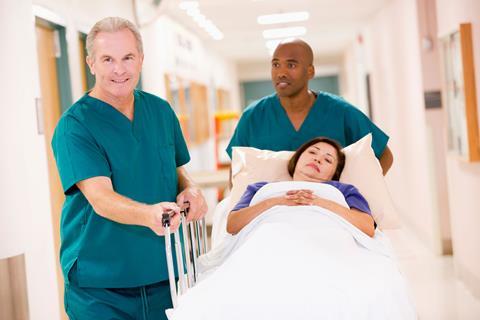 The NHS is committed to providing free healthcare to everyone in our country who needs it, regardless of wealth, status, skin colour, culture, religion, sexual orientation or disability.
It is essential that every leader at every level in every organisation ensures they promote and model both compassion and inclusion in all their interactions.
Only then will everyone who works in, and uses, our health services see that these values are the lived genetic structure of the NHS.
The inclusion strand of this structure is clearly weak within the NHS. Although the NHS draws on a remarkably rich diversity of people to provide care to our patients, we often see widespread discrimination against black and minority ethnic staff.
There is little evidence that the day-to-day discrimination that BME staff experience is changing quickly
How do we achieve change? The NHS long-term plan has committed to ensuring better representation of BME staff at senior level and reducing the discrimination manifested in appointment processes by setting clear and aspirational targets.
This has been supported further by the Workforce Race Equality Standard strategy for BME leadership representation.
This is necessary but not enough. The latest WRES data show signs of progress in relation to BME appointments from shortlisting and in reducing the disproportionate rate of disciplinary action against BME staff.
But there is little evidence that the day-to-day discrimination that BME staff experience is changing quickly. WRES data for indicators reflecting the experience of discrimination at work, including harassment, bullying or abuse, have remained largely static over the last three years.
What are we to do?
First, we need compassionate leaders who pay attention to those they lead ('listening to them with fascination'). They must seek to understand through talking with their staff the challenges they face in delivering care.
They should learn to empathise with all their staff, particularly when we know that between 30 to 40 per cent of staff are experiencing chronic stress – and especially with BME staff. Their focus must be how they can help those they lead to provide the high quality, compassionate care they wish to offer.
Organisations must ensure every leader is trained and practised in implementing compassionate and inclusive leadership in their daily interactions.
Such leadership creates the conditions for inclusion and caring as we explain below. In contrast, high stress levels and directive, hierarchical leadership create the conditions for discrimination and stereotyping.
Second, it is important that every team has clear, agreed upon and challenging objectives aligned with the organisation's vision and that every individual is clear about their role and what they are required to do in their work.
The more work overload, role conflict, role ambiguity and lack of clarity for teams and individuals, the more we create the conditions for anger, hostility, blaming, stereotyping and discrimination.
Changing culture also involves raising awareness among all staff and patients of the subtler aspects of discrimination that are more difficult to identify and change
Third, we must create an environment of enlightened people management, nurturing the engagement and positive emotions that ensure staff thrive and enjoy their work place interactions.
This requires leaders that are authentic, open and honest, who model humility rather than arrogance and narcissism, who are optimistic and compassionate, and who invest constantly in recognising and appreciating people's efforts. When leaders help to nurture positive emotional environments, they also reduce the likelihood of discrimination.
When people feel positive, they perceive less difference between themselves and others who are dissimilar from them on a dimension such as ethnicity.
In addition to every trust agreeing objectives for representation of BME staff in selection panels, disciplinaries etc, we must implement equality and diversity initiatives that the evidence base demonstrates are most effective in reducing discrimination.
An initiative supported by the WRES team, involving four universities (Sheffield, Lancaster, Liverpool and Liverpool John Moores) has produced a website providing comprehensive research evidence around making diversity at work effective.
This includes raising awareness of the critical role of allies from non-disadvantaged/discriminated groups who change culture by speaking up when they see BME staff or patients being ignored, treated with incivility, spoken over or otherwise subjected to the weathering micro-interactions which corrode the values of compassion and inclusion.
Such transformational processes must also raise awareness of the potential negative messages of some diversity training. The message that all trusts have cultures of discrimination or all of us are subject to unconscious bias may lead to an acceptance of the status quo because it is the norm.
Persistent and consistent messages that focus on the efforts trusts and individuals are making to overcome discrimination and bias are more likely to encourage change.
By focusing on such an approach, North East London Foundation Trust, for example, is not only showing continuous improvements in workplace experiences for its BME staff, but for its entire workforce.
A focus on setting goals for increasing inclusion and compassion while reducing discrimination at individual, team and organisational level is likely to achieve culture change.
Goal setting is an effective means for changing behaviour – especially when goals are specific, challenging and agreed rather than vague, unambitious (such as 'do your best') and imposed.
Persistent and consistent messages that focus on the efforts trusts and individuals are making to overcome discrimination and bias are more likely to encourage change
Changing culture also involves raising awareness among all staff and patients of the subtler aspects of discrimination that are more difficult to identify and change such as repeated negative but not overtly racist 'humour' directed at BME staff and patients.
Fourth, we must continue to create the conditions for quality improvement and innovation in our organisations. Compassionate leaders who focus on the vision of caring for patients reinforce the fundamental altruism and intrinsic motivation of NHS staff, thereby indirectly making discrimination less likely and increasing the likelihood of innovation.
These leadership behaviours create a sense of 'psychological safety', enabling staff to speak up about concerns and issues to do with discrimination or incivility and to suggest ideas for new and improved ways of working.
Changing culture also means ensuring that all leaders understand the central role diversity plays in the efficiency and effectiveness of our health services. When the diversity of staff members mirrors the diversity of their communities, NHS trusts provide higher quality care, are financially efficient and deliver higher levels of patient satisfaction.
Diverse teams with clear objectives, clear roles, good communication and positive attitudes to diversity outperform teams composed of people from similar backgrounds.
Such teams are both more productive and significantly more innovative – developing and implementing ideas for new and improved ways of working. Improving equality, diversity and inclusive cultures should be an explicit goal in every trust.
A recently published report outlines the journey taken by five NHS trusts in applying QI methodology to the workforce race equality agenda.
Fifth, building effective teams ensures team members feel a sense of cohesion, optimism and efficacy in their work. Effective teams have dramatically reduced stress levels which in turn means less aggression, harassment and discrimination.
Nurturing effective teams is core to creating positive, non-discriminatory cultures.
Such teams are characterised by many specific behaviours, including explicit valuing of people from diverse backgrounds.
These five cultural elements are core to changing NHS cultures to reduce discrimination and ensure inclusion. It also necessary to implement talent management strategies that deliver for all staff, not just a select few.
Implementation
NHS Improvement, The King's Fund, the WRES team and the Centre for Creative Leadership, have developed a programme for just such a culture change. This is being implemented by more than 50 trusts across England.
It is a comprehensive evidence-based approach, with free and accessible materials, designed to be implemented by change teams within trusts and to be integrated into the existing workforce, organisation development and human resource strategies. It includes a wide variety of tools with many focused specifically on issues of inclusion.
Now is the time to move from the rhetoric of compassion and inclusion to implementing core values in reality across the whole of the NHS – demonstrating the integrity and humanity of our health service to the rest of the world.

Yvonne Coghill, former director WRES and race advisor NHS RHO