New national framework for advanced clinical practice published by HEE
Designed to provide a single definition and set out expectations on staff and employers
Document follows inconsistent use of advanced titles with no link to level of education
NHS organisations should review staff who have been given the title 'advanced' as part of their role and guard against 'unconscious incompetence', new guidance says.
For the first time, national bodies have agreed a single definition for advanced clinical practice in the NHS and to establish clear criteria for what such roles should involve and the governance arrangements around them.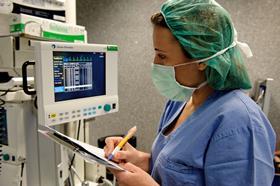 The framework comes as NHS trusts increasingly look to develop new roles, with some staff stepping up to advanced practice with greater autonomy and decision making over patient pathways.
HSJ understands NHS Improvement will be monitoring compliance with the framework among provider organisations.
In September, researchers found hundreds of unregistered care assistants and other staff had been given the title "advanced" when they had no education or training to merit it.
The study by Professor Alison Leary at London South Bank University also found 595 different job titles for advanced practice were used by trusts, with no clear link between the job title and the education level or experience of the nurse.
The national framework, published by Health Education England today, provides a single definition for advanced practice staff. They are required to have a master's level of education, will normally be registered with a professional regulator, and involved in leadership, management, education and research.
The document says: "Currently many titles are used for health and care professionals who work as this level such as advanced clinical practitioner, advanced nurse practitioner and advanced practice therapeutic radiographer. It is important to note that some professionals have been given the term 'advanced' in their role descriptor, but may not be working at this level for various reasons.
"This may mean that employers need to review their workforce in order to make sure that there is no misunderstanding by the public and the multidisciplinary team. Governance arrangements must be in place to consider these cases."
Trusts should make sure staff working at an advanced clinical practice level, who often have significant autonomy and clinical decision making powers, are properly supported and held to account, the guidance adds.
It says: "Individual and organisational governance need to be robust and within legal, regulatory and professional frameworks, as there is a possibility that professionals taking on new roles and responsibilities could put people at risk. This could be caused by lack of competence to carry out duties safely or effectively, or where adequate safeguards are not in place, if these roles are not properly supported.
"Employers carry responsibility and vicarious liability for practitioners, and must be responsible for ensuring that all advanced clinical practice roles, both those that are existing or those of the future, do not compromise safety. Policies and processes may need to be modified to reflect this. Without this, there is a risk of 'unconscious incompetence', which may compromise safe person centred care, as well as the reputation of advanced clinical practice."
The framework has been developed by NHS Improvement, HEE and contributors from across the NHS to define advanced practice and what capabilities staff should have. The aim is to ensure consistent standards across the health service.
Mark Radford, director of nursing improvement at NHSI, said: "As a former nurse consultant, I directly saw the patient and organisational benefits of advanced clinical practice delivered care. This new framework develops a common understanding across professions with agreed education and competency arrangements and it is the ideal platform to increase the use of this innovative NHS workforce solution."
Charlotte Beardmore, co-chair of the advanced clinical practice steering group, added: "The framework offers a positive opportunity to harmonise advanced clinical practice across the diversity of roles, settings and sectors in which allied health professionals practise.
"It should enable and strengthen support for advanced clinical practice development across the non-medical workforce, thereby enhancing experience and outcomes for patients and progressing new models of care."