If job planning is done well, the prize is a real team that works measurably smarter, making cost effective use of resources from programmed activities, to CT scans, beds and more. By Nadeem Moghal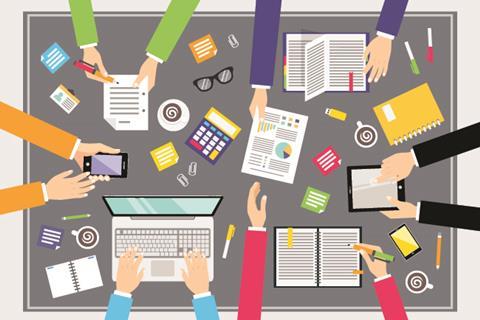 Job planning came with the new consultant contract in 2003. Doctors received a significant salary uplift in exchange for relinquishing some of the autonomy that came with Whitley Councils rules.
The story goes that job planning was born of the London centric need to control consultant use of NHS time potentially used elsewhere.
Consultants with substantial private practice tended to stick with the old contract. Job planning weakened our professionalism.
We replaced professional goodwill for a time sensitive view of the world. Job plans measured our time. So we measured our hourly value.
Job planning is an instrument to describe the capacity and use of the most expensive workforce – what, when, where – a workforce that also largely controls the how to. Every consultant is supposed to have a job plan, reviewed annually.
Job planning is also an instrument for accountability; doctors contracting what is in effect their timetabled presence in the NHS, sessions now called programmed activities. In one organisation audit revealed 16 per cent compliance with the job planning policy.
This reached about 70 per cent, driven at pace as a cost saving exercise leaving a trail of ill feeling.
Plan review
A job plan review is probably the most unpleasant contractural moment for the consultant, and service lead. It is a moment when value is checked, tested, even questioned.
As an interim lead in another organisation, and not knowing the consultants, it was ethnographically fascinating to experience the language, verbal and non-verbal, ranging from deep anxiety, to tears, to do you know who I am… before a word was uttered. All grown ups, felled by this one thing they hated.
This 15-year-old static instrument has failed the doctor, the team, the organisation and the tax payer because it perpetuates the importance of the individual over team, autonomy over collaborative working. It's my job plan reveals it all.
The proven hypothesis is that if there is no team job plan, there is no semblance of a team. If there is no team, then at the very least, resource use is suboptimal.
Team job planning, on the other hand, is an organisational hygiene factor; a priority for every service lead, manager, medical director and CEO.
I became an "expert" on team job planning thanks to the financial special measures transformation teams who came to the table with an analysis that said we could save 1.5 PAs out of a particular service – every penny counted towards the then fantastical "control total" now twice the number that predictably broke the NHS Improvement contracted magical check list.
The analysis was derisory, damaging and guaranteed to disengage an already fragile team trying to deal with more demand than capacity. So began the work to prove how to do team job planning. From a whiteboard exercise, to coaching, to doing.
The proof. The Hyperacute Stroke Unit at Barking was forever struggling with the predictable. Recruitment; insufficient beds; unsustainably frustrating daily outlier position. All the usual was tried, including coaxing more out of the exhausted. Demand was not matching capacity in every measure.
Devesh, the new lead decided to start again. He sought coaching and picked the toughest option on the leadership menu – job planning; not the 1-1 pain, but team job planning. He made it clear to his colleagues that the exercise was not going to reduce anyone's programmed activities ie salary.
There was hesitancy because it was going to be revealed that programmed activities paid for specific responsibilities weren't really being delivered and then there was this hidden odd custom and practice - "seniority privileges"… Still, the guarantee stood.
CQC should be setting the expectation that all providers prove that team job planning is a universal trust standard
The process enabled transparency and honesty and the realisation of who really did what, and who really wanted to do what. After many sometimes difficult conversations, responsibilities were reassigned and consultant team meetings fixed so all could attend, and made mandatory – only the dead, dying or on leave were excused.
A collection of doctors was now a team defined by team job planning with timetables transparent to all.
The lead then re-presented the demand-capacity mismatch data. A huge proportion of patients with a stroke and stroke mimic arrive in the emergency department between 7pm and 11pm, well before the consultants finished for the day with remote on call as standard.
What if the consultant on call stayed in the building and finished at 9pm? But don't make the consultant work harder. Start later, finish later.
The test of change was agreed, made possible because the team was now meeting regularly, with more trust, behaving as a team, facing into a problem with a common purpose, enabled through team job planning.
So what happened.
Time to see a senior decision maker: 16.1 hours reduced to 105 minutes.
Outliers: ~14 daily a day to zero – every day.
HASU admissions: reduced by 26 per cent
Length of stay: reduced by 3.6 days
HASU bed capacity: underused, everyday
Mimic strokes: directed to the right services
Time to HASU: from over four hours to a median of 176 minutes
£645,000 of best practice tariff recoverable – but don't tell the clinical commissioning group
Annualised prediction of 425 fewer admissions = 4,675 fewer bed days
Predicted 291 timely discharges out of ED per year
SNAPP score: moved from D to A
Everyone has time for lunch
Additional resources: nil
Everyone gained. Stroke and non-stroke patients, accident and emergency, HASU, staff, tax payer. Not working harder but smarter.
It is possible to say that and prove it. All because a senior decision maker is at the front door during half the peak demand period.
Normalising senior decision makers from the specialities at the front door is not new ask. Siloed job planning perpetuates detachment from colleagues, other services and the opportunity to work as a real team.
Devesh knows that without first addressing job planning as a team, the team would have remained trapped in the usual demands to improve flow, work harder, filled with false assumptions, and resistance to change.
Flow at the front door has now become fast and furious. He is working to normalise front door cover till 11pm. Imagine this being the norm across the land.
Team job planning is a process with key principles. Done well, and the prize is a real team that works measurably smarter, making cost effective use of resources from programmed activities to CT scans, beds and more. And not an app in sight.
Team job planning is a team hygiene factor. It is a measure of modern medical professionalism, proving collaborative working.
It ticks the Care Quality Commission tests of Safe, Caring, Responsive, Effective, Well led, Use of resources. The CQC should be setting the expectation that all providers prove that team job planning is a universal trust standard.
Team job planning works.
Go learn from Devesh @BHR_hospitals (devesh.sinha@nhs.net) @StrokeDSinha


Dr Nadeem Moghal writes in a personal capacity.