Imperial medical students send open letter calling for end of redeployment into ICU roles
Students' union warns the now compulsory placements put student

wellbeing

"at risk"
But open letter criticised on social media for calling

nursing

and

HCA

tasks "menial"
Students at a London medical school have demanded an immediate end to their "compulsory" reassignment covering nurse and healthcare assistant shifts in the intensive care units at their connected trust.
In an open letter to the head of Imperial College school of medicine Amir Sam, its students' union called for an end to the redeployment of clinical students to Imperial College Healthcare Trust. The provider is integrated with Imperial College London's faculty of medicine and offers more than 3,000 placements each year.
The letter called the change from voluntary to compulsory placements "remarkable" in the stance towards volunteering, which it claims could put the academic, physical and mental wellbeing of students "at risk".
However, the letter also attracted criticism on social media after it described the tasks being undertaken as "menial". The students' union later apologised for the use of "menial" in its open letter.
If I hear any medical student ever describe the work of HCAs as menial, rest assured I would not want your assistance, paid or not, on our wards.

In fact you can go home, stay there, and never come back to the hospital. https://t.co/rYx2sAr6W3

— Dr Philip Lee (@drphiliplee1) January 19, 2021
Ashamed of @icsmsu this evening. I am a 5th year medical student who has been a HCA/helper/proner at St Marys ICU for the past two weeks now and it has been both an honour and a privilege to help out the @ImperialNHS and @NHSuk in whatever way I can. Helping people is not menial.

— Orla (@OrlaHilton) January 19, 2021
'Missed the mark'
Muntaha Naeem, president of the students' union, wrote the school has done a "remarkable job" in adapting how education is delivered during the pandemic but claimed it has "missed the mark" on redeploying clinical students.
He continued: "Just a few weeks from their exams, our final year students now find themselves being pulled away from their clinical placements and faced with obligatory redeployment onto intensive care units to cover nursing and healthcare assistant shifts, working alongside paid staff for free while doing menial tasks for eight hours a day and five days a week, all under the pretence that it is for their education and represents a 'significant learning opportunity'."
Mr Naeem added the work "does not represent the opportunities for learning that correspond to our learning outcomes and assessments".
He said: "It is clear to students that these sorts of duties have little, if any, relation to their upcoming exams and learning outcomes, and so we firmly suggest this narrative is dropped."
Education 'must remain the priority'
The letter added the school was at "loggerheads" with clinical students' redeployment advice published by the Medical Schools Council last March. The council advised students must not "jeopardise" their readiness to qualify by taking too many additional responsibilities. Moreover, it said volunteer medical students must be placed in structured, clinical roles, be paid and receive written terms and conditions.
Earlier this month, NHS England and NHS Improvement also published guidance stating medical students can sign up for paid work, of up to 12 hours per week, which would need to be in agreement with the local medical school, to "support clinical services".
Mr Naeem said: "The medical school is evidently in a position to act and must do so. We believe that volunteering should be exactly that, voluntary. And as has clearly been highlighted by the above bodies, the delivery of our education for all our students must remain the priority."
In a joint statement, ICSM medical director Julian Redhead and Professor Sam told HSJ many placements cannot go ahead as planned because "non-time critical" NHS services have been paused in response to the pandemic.
The statement added the roles students are carrying out instead, as part of multidisciplinary teams, are making "a big difference" to patient care and experience. Structured teaching will resume "over the coming days," it noted.
The professors said: "We are grateful to students for raising these concerns and for the constructive discussion that followed. We are working closely together to ensure the continued safe delivery of education for our medical students, and that they remain appropriately deployed and well supported in these challenging circumstances."
UPDATED: This article has since been updated to include the apology issued by ICSMSU over its use of the word "menial" in its open letter.
The letter in full
The below was published online but has since been removed.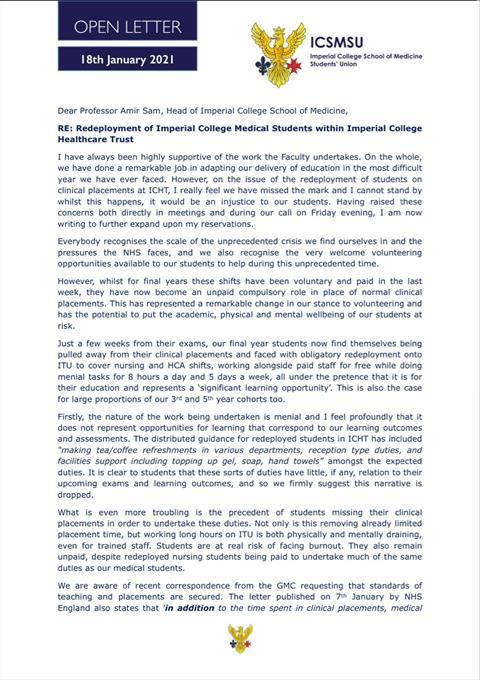 Source
Imperial College School of Medicine's open letter, statements