As one of the largest providers of workforce solutions to the NHS with almost 20 years' experience, ID Medical supplies the NHS with over 8 million staffing hours per year. Together with our technology partners Clarity Skillstream, we've been helping trusts and health boards across the UK make huge savings in both time and money through unified digital workforce solutions.
Written by
Being contracted with 90 per cent of UK trusts, we're seeing first-hand the strain covid-19 is putting on the entire NHS. Many of our clients and workers are expressing the difficulties they're facing at their hospitals in effectively tracking covid-19 status and the associated isolation scenarios.
This unprecedented situation is directly impacting the capabilities of traditional staff banks and agencies to manage hugely important temporary workforces. A facility to also track covid-19 status and, just as importantly, the wellbeing of affected workers simply hasn't existed; meaning the challenge of managing a staff bank and agency is greater than ever, especially for those organisations that don't have unified software with supply.
So, with hospitals and healthcare professionals now facing an unparalleled, once in a lifetime event, what can be done to solve these problems and allow NHS staff to focus on patient care and their own wellbeing? We asked ourselves, what can ID Medical do to help?
Rising to the challenge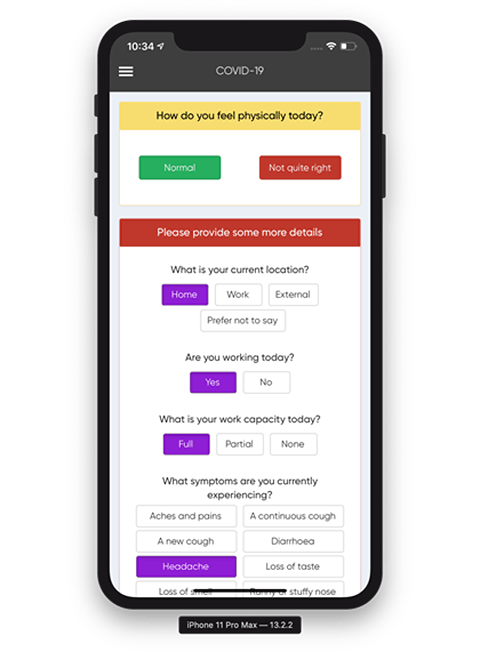 Our CEO, Deenu Patel, shares, "Everyone, both here at ID Medical and our partners at Clarity, has risen to the challenge of covid-19. We've fully-mobilised our core workforce from home to continue our exceptional, uninterrupted levels of service; but we know we can do much more to help those on the front lines."
"Ultimately, we all want to ensure that every single NHS trust, doctor, nurse and healthcare professional can focus on what's truly important: their own wellbeing, and the care of their patients."
With this in mind, we've made our award-winning and proven digital staff bank free to all NHS trusts until October 2020 – supporting their service through the pandemic. The power and cutting-edge workforce technology provided by global leaders Clarity, underpinned by the class-leading service and supply of ID Medical, one of the most experienced and trusted recruiters in the UK – it's that simple.
But that's not all…
Taking the fight to coronavirus
To help all our clients, our covid-19 workforce tracker has been specifically developed to help hospitals and medical centres support their staff on the road to recovery should they fall ill.
The functionality provides detailed reporting on each worker's isolation criteria, with current status and expected return to work dates. It also allows the worker to update the trust on their individual status at the click of a button; including covid diagnostics tools, so the hospital is aware of the exact symptoms the worker has at any particular time.
This live tool provides the hospital with valuable real-time data for effective and accurate covid tracking across their entire workforce. Most importantly, this ground-breaking technology means that hospitals can keep in touch with their people; a critical part of maintaining mental health during times of isolation and a founding principle of supporting positive wellbeing.
To learn more about our staff bank and COVID tracker, just follow this link.

What our staff bank can do for you
Our online staff bank platform has been developed exclusively with our partners Clarity; one of the longest serving providers of recruitment agency and bank worker solutions. In fact, their technologies support some of the world's best-known brands in meeting their strategic workforce objectives worldwide.
Clarity's proven, adaptable and best in class online workforce management solution – utilised by over 220,000 temporary workers globally, and now complemented by our own unmatched provision of agency staff and service and 24/7 support – has already been helping NHS trusts across the UK for over a decade: saving millions of pounds in annual staffing and recruitment fees and an immeasurable amount of time!
For example, since its deployment with Mid Yorkshire Trust, this solution has helped save the organisation over £6.2 million over the course of 24 months – and that's just the start. Along with a huge annual saving across staffing and recruitment, the trust have enjoyed a job fill rate of 97 per cent, a 21 per cent reduction in agency spending over 12 months, and ended the year 2018-19 £1.3 million under their NHSI agency ceiling.
Make no mistake: this is not just another staffing application. It's an intuitive platform available through desktop or mobile application that meets with all current framework compliance requirements and gives your trust complete control over every aspect of staffing. After all, many current staffing mobile technology platforms only go so far. For example, if your bank is being fully utilised but you need more staff to cope with demand, what options do you have? Many hospitals face this issue and many of the current self-serve platforms on the market cannot offer a viable solution, and that's where we're different.
The team here at ID Medical can provide full agency support to all NHS hospitals during their time of need and beyond. Essentially, our clients are able to reap the benefits of both worlds whenever they need it.
Remote deployment
The covid-19 pandemic has forced many of us to work remotely and we recognise the immense challenges this creates.
As a company, we have tackled this challenge and used it to create a solution. A solution for NHS clients and health boards to implement our world class digital bank platform, completely remotely with minimal on-site resource required. This means that our hospitals can focus on the treatment and care of their patients whilst their digitised bank is deployed.
We're confident that this solution is able to deliver an instant, demonstrable impact on hospital staffing at every NHS trust in the UK, and this is why we're keen to offer our staff bank solution to everyone in partnership with Clarity.
As Clarity's CEO, Steve Lucas, says, "ID Medical's attention to customer service, excellent client relationships and desire to always deliver their customers a measurable improvement in staffing, makes them a natural partner for Clarity."
"ID Medical's blend of hands-on experience and bespoke support is the perfect complement to our staffing platforms – it's a key reason why we chose to work with them and enables us to provide a much-needed service to our NHS. It means that our clients don't just receive an off-the-shelf staffing platform or an unengaging app: instead, they get a bespoke end-to-end service that's there for you 24/7, 365 days a year."
Doing the right thing
Exceptional times call for an exceptional response for all of us associated with the NHS and private medical healthcare providers: that's why we're choosing to help every NHS trust digitise their traditional bank with our class-leading technology free of charge for six months.
More importantly, however, it's simply the right thing to do, as our CEO, Deenu Patel says, "Making day-to-day operations easier and reducing non-essential workloads is something we've been doing successfully for over 20 years; so, it's only right we help as many hospitals in the UK by offering our staff bank service free of charge until October 2020 to those who really need them during these uncertain times."
"Everyone associated with the healthcare profession has been working flat out to look out for the health of our nation, and we couldn't be more grateful and more proud of their continued, heroic efforts."