Pet superstore chief Nick Wood says GPs should learn from the partnerships that have rebranded the UK's vet practices as seven day a week retail players. Daloni Carlisle reports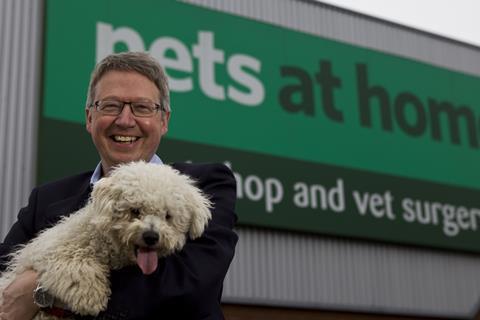 Clinical autonomy is an important part of the model, says Nick Wood
The chief executive of a chain of pet superstores might seem an unlikely source of inspiration for the NHS. But when the chain is Pets at Home whose stores now house more than 200 first opinion veterinary practices, some parallels with NHS general practice quickly emerge.

Nick Wood, who has been at the helm of Pets at Home for nearly four years, has a lot of experience working with vets. And note the careful choice of words: vets do not work for Pets at Home, they are joint venture partners. The vets run the practices, the larger organisation runs the back office.
Relevant model
This model is highly relevant, if not immediately transferable, to NHS general practice. The Nuffield Trust and others have argued that the era of the standalone GP practice is over.
Already numerous GPs have formed federations, while a few have moved into acute trusts – for example, Northumbria Healthcare Foundation Trust has this year set up a new subsidiary company that is managing two GP practices.
'The era of the standalone GP practice is over'
The British Medical Association, the Royal College of General Practitioners and others argue that general practice is in crisis, drowning in a tidal wave of bureaucracy and rising demand. In June, health secretary Jeremy Hunt offered a new deal for general practice, promising to take away some of the burden of bureaucracy and invest in general practice in return for GPs working seven days a week.
Mr Wood is not about to enter the fray of NHS politics, but is happy to share the Pets at Home, Companion Care and Vets4Pets story.
The story told
"I think what has driven this story goes back to the late 1980s and a model observed within the independent opticians market where there was a mass of small, independent opticians and a very small number of corporate chains," he says.
Into that market came Specsavers. It is a well told story: Dame Mary Perkins and her husband Doug took the high street by storm in 1984, providing a new model of ownership for opticians, setting up the company as a joint venture partnership where each Specsavers opticians is legally a separate business.
They had pushed hard for opticians to be allowed to advertise and when the law changed, they were among the first to take advantage of the new freedom. The catchphrase "Should have gone to Specsavers" is now part of the modern lexicon.
Today, Specsavers is the world's largest optical retailer, with more than 750 stores in the UK and Republic of Ireland. There are very few independent opticians left.
'The joint venture model works for all'
Mr Wood says the joint venture model works for the optician, for the business and for the customer. "The joint ownership model found a way of energising and rewarding the independent optician to work within the corporate environment, to leverage the single brand in terms of the marketing and buying power, and to provide an unbelievable level of service and value to core customers," he explains.
"The small animal vet market in the late 1990s looked very similar to the opticians market in the 1980s.
"The family vet operating as a single entity was the norm. There were a few corporates and a small number of chains but no single vet brand."
The same could be said of pet stores. Pets at Home started with a single store in Chester in 1991.
By 1999 it had grown to 140 stores, partly through acquisition, and had a presence in burgeoning retail parks springing up on the edges of UK towns.
Pets at Home started to explore a joint venture model for providing veterinary practices within its stores and in 2001 Companion Care Vets opened its first in-store joint venture veterinary practices.
This pre-dates Mr Wood's involvement with Pets at Home but he is familiar with the story. He says: "The question the team had was 'how could you provide a veterinary model that would sit within a store and provide all the benefits around retail and opening hours by being co-located within that store?'
"They borrowed the optician model to go into partnership with the vet who provides all the clinical expertise and customer and day to day team management and created an organisation that provided all the back office support for an existing business."
The lessons learnt
This support provides the all-important capital to set up the premises and equip it, as well as the marketing, the management accounts and legal advice. It supports recruitment, continuing professional development and training, runs payroll, manages rent and rates payments, provides and manages IT systems and offers operational support for the business, including much of the bureaucracy around health and safety compliance.
"We provide solutions to the back office challenge involved in running a small business in a very, very efficient way," says Mr Wood. "The vet can spend all his or her time focusing on the customers and their pets."
The model took off as vets looking to start their own business with corporate backing flocked to join. In 2013, Pets at Home acquired the Vets4Pets chain and by this summer, there were 338 veterinary practices in joint partnerships with Pets at Home, including 227 in stores.
Clinical autonomy is an important principle, says Mr Wood. For example, while Pets at Home can provide buying power, it is not in the business of telling vets what to prescribe.
"We have been very clear," he says. "We are not veterinary experts. We have vets in the business and have a joint venture council that we attend as part of our governance structure, but we are not in any position to give [clinical] guidance."
Typical practices are small – one vet partner working with another one or 1.5 vets and a team of nurses and receptionists. But some practices are larger, with up to nine vets.
A new joint venture partner vet starting today takes on a loan – typically just over £400,000 – to start up the practice and commits to paying back the debt from running a practice with the corporate branding that is open seven days a week, including six hours on a Sunday.
Joint venture partners pay a percentage of turnover as a management fee to Pets at Home.
Mr Wood says: "For a vet, it gives an opportunity for a relatively low capital sum to be able to own their own business. Every single one is jointly owned by the vet and by ourselves.
"The equity value in that business accrues to the vet." Only once the loan is paid off – typically in seven years – can vets start taking dividends from the business.
The core aim is to build practices that are convenient for customers and give them what they want. Mr Wood says this has several components:
seven day working;
being able to park;
convenient to get to; and
offering a high quality professional and customer focused service.
From the word go
Seven day working is built in from the start, says Mr Wood. "It is one of the attractions to our customers and it gives the practices a competitive edge.
"Convenience is a really core reason why a pet owner chooses their vet."
He sees it as consistent with the offering as well as with being a vet. Mr Wood says: "Part of the statutory obligation on a vet is to provide an out of hours solution and give 24/7 coverage – whether they do that themselves or leverage off specific companies that provide it.
"So 24/7 care has always been part of being a vet."
'Seven day working is built in from the start'
Seven day services are very much part of retail. "The independent vet may say 'I want Sundays off and my customers do not want Sunday service anyway'," says Mr Wood.
"But for us in a retail proposition within Pets at Home stores that are open seven days a week, it is unthinkable to operate a veterinary surgery that is closed on a Sunday.
"It is part of what enables businesses to be successful."
Comparisons drawn
There are parallels between first opinion veterinary surgeries and NHS general practice. But also equally clear differences (beyond the blindingly obvious of animal versus human patients and private payment versus NHS funding).
For a start, Companion Care and Vets4Pets practices are all first opinion and general practice. Very much like NHS general practice, they see all comers from acute injuries through to long term chronic disease management and preventive health, such as vaccination and weight management.
First opinion vets and NHS GPs have a different scope of practice, though. A modern small animal vet practice has consulting rooms like an NHS GP practice, but it also has an operating theatre, dental equipment, digital X-ray, ultrasound and blood analysis equipment.
"They are like mini first opinion hospitals," says Mr Wood. "From a customer point of view that is fantastic."
High street vets and GPs hold a very important place in people's lives. One of the big asks among patients is to see their own GP; it is the same for pet owners who want to see their own vet.
Both are rooted in their local community.
Mr Wood says: "It is very much a personal relationship. Once you have chosen your vet it is a very difficult decision to move, and most people do not do it lightly.
"You might move because of a bad experience – and that doesn't happen very often – or maybe because you move house or because you have a new pet.
"Your relationship with your vet and your veterinary surgery is very consistent to being a partner is a long term investment."
Like vets, GP partners are the owners of small businesses and need skills that are not necessarily taught at vet or medical school.
'Partners need to be highly customer focused'
In addition to being willing to work in a seven day environment, partners need to be business savvy and highly customer focused, says Mr Wood.
"We do recruit very carefully," he notes. "We are looking for people with four to five years experience who are very customer driven.
"Going into a joint venture partnership is not a commitment anyone should take on lightly.
"There are a lot of commitments in terms of financing and starting a business is never easy. It is a lot of hard work.
"The long term benefits are the rewards of creating your own business. These are not just financial, but include a degree of pride."
In 2011, Companion Care launched a graduate training scheme with the aim of building a pipeline of future joint venture partners. A three year programme for new graduates gives them not only their first job but also a mentoring scheme to help develop clinical, personal and business skills.
NHS general practice probably has more regulation and more bureaucracy than a vet practice – the vet world has no equivalent to the Care Quality Commission or Quality and Outcomes Framework, for example, let alone payment systems such as the General Practice Extraction Service or Calculating Quality Reporting Service.
Neither vets nor GPs go into practice to do paperwork and handing some of the bureaucracy over to a corporate partner is one of the attractions of the joint venture partner model, says Mr Wood. Could the same approach work in general practice?
Ask Mr Wood about what it is like working with vets and he cites qualities that are often associated with GPs. "They are very logical and driven by data," he says.
"The way to persuade vets is by a high degree of logical and rational argument and a set of figures.
"They also care passionately about pets." And it is on this passion that the shared vision is founded – something that Mr Wood feels is vital to the successful partnership between vet and corporate business.
"While there is an opportunity for corporates and for JVPs to create wealth and earn money, fundamentally, our JVPs are vets who are motivated by making sure pets' health is improved.
"As a corporate, we want our customers to love pets and we passionately believe that there are some massive benefits of pet ownership and we passionately support responsible pet ownership, of which regular vet checks are a part."
Mr Wood says it is still early days in terms of aggregating vet practices. Pets at Home has ambitions to increase its number of stores from its current 402 to 500, with a vet in every one.
And this is not the only model on offer either. Other chains are offering different approaches – for example, the vet as manager rather than as a partner.
Today, only around a quarter of the UK's 2,500 small animal, first opinion vet practices are within corporates. "I am not sure we will ever get to the same position as opticians," says Mr Wood. "But there is still some way to go and room for growth."
Seven day services: Setting up shop on the high street
1

Currently reading

Seven day services: Setting up shop on the high street

2

3