All this week HSJ will be looking at what can be done to create a more diverse mix at the top of NHS leadership
Earlier this month policymakers, expert commentators and directors within the top of NHS Leadership gathered at the HSJ Summit to reflect the most pressing challenges facing the NHS today. Just two were from a minority background. Leadership within the NHS fails to reflect the diversity of the population it serves.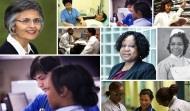 In 2007, there were just four black NHS chief executives and three black directors of nursing. This number has stayed largely the same with reports stating BME applicants are "less likely to win NHS jobs".
This week, HSJ will be publishing its first ever celebration of healthcare's influential leaders from BME backgrounds, by revealing 50 BME Pioneers judged to be making an outstanding contribution to shaping and leading quality care today.
We will be focusing on what can be done to create a more diverse mix at the top of NHS leadership with exclusive interviews, profiles and podcasts.
How do we commission services accessed by minority groups who are fast becoming the majority in England? What needs to happen in terms of leadership courses and planning that would allow for greater diversity amongst future leaders.
How are patient champions delivering better results and patient experience for minority groups who have largely faced poorer outcomes?
On Monday Shahnaz Ali, former director for inequality, inclusion and human rights at NHS North West, writes on how BME staff can scale the "snowy peaks" of NHS leadership.
Debbie Weekes-Bernard, senior research and policy analyst at Runnymede, takes a look back at over 50 years of Asian migrant workers in the NHS and the contribution Asian staff have made in the UK health system.
On Tuesday Professors Simon Dyson and Karl Atkin discuss the resource and funding accorded to services mainly accessed by minority groups such as sickle cell and thalassaemia.
On Wednesday Roger Kline examines Tony Blair's 2003 prediction that "in 10 years' time, ethnic minority groups should no longer face disproportionate barriers to accessing and realising opportunities for achievement in the labour market".
Sarah Amani, chief clinical information officer for Surrey and Borders Partnership NHS Foundation Trust, talks to HSJ's Nosmot Gbadamosi on how opportunities must be taken and not handed out for BME pioneers. Barely a year into her career as a mental health nurse, Malawian born Amani blew the whistle on the poor quality care she witnessed in her ward.
You can also listen to a podcast where Ms Amani considers the impact of BME Networks and the radical solution needed to address diversity in NHS Leadership.
On Thursday, HSJ publishes its first ever powerlist of 50 BME Pioneers working in healthcare supported by the BMA, NHS Employers and NHS Leadership Academy.
In a Leadership article Paula Vasco-Knight and colleagues consider what NHS England can do to tackle equality and inclusion in the NHS.
Also in a podcast Paula Vasco-Knight talks to Shreshtha Trivedi on what the main barriers are preventing BME staff from taking up leadership roles in the NHS.
Yvonne Coghill writes on why more progress hasn't been made with getting BME colleagues into more senior positions, the evidence of discrimination, and how progress engaging BME colleagues can be crucial.
On Friday Lord Victor Adebowale discusses what is required to be a good leader in today's ever-changing NHS.
Joy Warmington examines how staff can be given the power to end inequality in patient care without the need for legislation.
On HSJ's Pinterest site we take a look at the history of influential leaders from BME backgrounds working within the health sector.
On our Learnist page we take a look through HSJ's news archive over the last five years and some of the pay-outs and compensations that not tackling equality has had on the NHS' financial pocket.
Join in the discussion on hsj.co.uk, as well as on Twitter and LinkedIn. We are asking what everyday actions do you think could make a difference to diversity in NHS leadership? Our hashtag is #HSJBME.