Boss of three trusts says merger will not prompt different reconfiguration agenda
Group model had positive aspects but was ultimately "cumbersome and inefficient"
April 2019 merger deadline "challenging" but technically "doable"
Plans to merge three Essex trusts were proposed after an experiment to run the hospitals as a "group" with one leadership team proved "cumbersome and inefficient", the chief executive has told HSJ.
Clare Panniker said merging the three trusts was a better structural form for implementing existing reconfiguration plans and insisted the move was "not a Machiavellian way of trying to pursue a different agenda".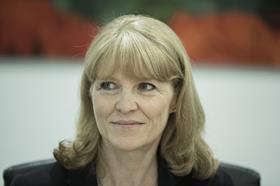 The comments from the joint chief executive of Basildon and Thurrock University Hospitals Foundation Trust, Southend University Hospital FT and Mid Essex Hospital Services Trust followed the organisations agreeing to pursue a merger last week.
The move also follows two non-executive directors resigning after raising concerns about the governance of the group model in November.
Ms Panniker said: "We are categorically not looking at anything that is not in the consultation document [published in November and running until 9 March] as a result of the merger. We can do a lot through our group arrangement but it's cumbersome and inefficient. For example, we would want to have one board rather than three boards and a joint working board.
"Going back to three separate organisations is not the answer. Carrying on as we are is inefficient and not making the best use of our resources, so I think it all points to accelerating the change and doing [a merger] as quickly and robustly as we can."
HSJ revealed last week that trust leaders had recommended the merger to each of their boards. The merger would create a provider with combined revenue of £945m – making it the eleventh biggest in the NHS based on last year's turnover figures.
The trusts had been developing a group model to run their hospitals under one leadership team with a "flexible workforce" since 2016.
The group agreement said there was no intention to merge the trusts – and the change will face hostility from local campaigners, clinicians and politicians if it gets the green light.
Ms Panniker said that in 2016 the trusts had not intended to merge but circumstances had changed and – having found the group model "inefficient" – merging was "the right thing to do" financially and for patients.
As well as cutting bureaucracy for managers, some clinicians have reacted positively to prospect of merging, Ms Panniker said. She added that a merger would also create a more positive "mindset" and take the "best of the three trusts and create a new single corporate identity for recruitment, for investment, for retention".
She said the merger would not lead to a revisiting of a pledge for each hospital to retain a 24/7 emergency department. The commitment followed concerns raised to HSJ by campaign group Save Southend NHS and some senior local clinicians.
Save Southend NHS said it was "very much opposed to the merger [because it] would inevitably lead to a reduction in the number of services available locally to patients; plus the potential implications for staff contracts, conditions and pay are huge too".
The acute reconfiguration plans have been significantly watered down since they were first discussed in 2016, following patient and clinician opposition.
The East of England Clinical Senate's review, published in February 2017, warned that the plans attempted to try to retain virtually all the current services on all three acute sites. The senate said the plans would not deliver long term sustainability and advocated a "bolder" approach, which could involve one of the three emergency departments being upgraded and one downgraded to a minor injuries unit.
Ms Panniker insisted the trusts were still targeting sustainability and a breakeven financial position by 2021. But she admitted it would be "challenging" for Basildon and Mid Essex to meet their control totals of £23.4m and £33.6m deficits respectively this financial year.
Addressing the financial problems was "a very live conversation". "The control totals were always very challenging and there was a stretch control total for Basildon and for Mid Essex… winter came early, cancelled operations came earlier than they might have, so there is pressure on the control totals," she said.
The financial deterioration follows HSJ revealing in October how former Basildon finance director Rick Tazzini raised "professional concerns" about the organisation's intention to accept NHS Improvement's deficit target of £23.4m. The trust went against his advice and signed up to the control total.
Source date
16 January 2018