Portsmouth Hospitals will stop some elective orthopaedic work over winter to free up beds
Mark Cubbon says trust will "take a hit on income" but "I want to make sure we are as safe as possible"
Trust aims to improve patient flow through A&E and acute medical unit
An acute trust is preparing for winter by reducing elective inpatient orthopaedic work for up to six months despite knowing its finances will "take a hit", its chief executive has said.
Several schemes are underway at Portsmouth Hospitals Trust to improve patient flow amid national warnings of a tough winter ahead.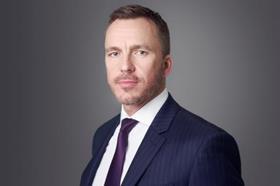 Chief executive Mark Cubbon, who started the job in July, told HSJ the organisation faces "immense challenges" to improve its accident and emergency performance against the four hour target, which was at 74 per cent in August.
The trust will use the beds saved by reducing inpatient orthopaedic work to run a new frailty unit for elderly patients.
The aim of the unit is to reduce elderly patients' length of stay, which in turn should free up flow through the A&E and acute medical unit, which were both criticised by the Care Quality Commission in August.
Last year, NHS Improvement asked all trusts to stop most inpatient elective activity over Christmas to avoid a deterioration in emergency care.
Mr Cubbon said the trust's leadership team had discussed "all options available" but did not want to take the risk of going into winter without a frailty ward and "a clear plan to make sure we have sufficient beds to deal with the workload".
He said beds for elective orthopaedic inpatients are the only beds where the trust has flexibility over use. This is because almost all its surgical inpatient work is for urgent or cancer patients, due to the trust having one of the most improved rates in the country for day case surgery, Mr Cubbon said.
He stressed the trust was not suspending all elective inpatient orthopaedic work. The trust will use some of its private patient capacity and outsource work to an independent provider.
Mr Cubbon added: "We will do this for no longer than six months. If we can sort this out in two months then great, but I'm mindful that we're heading for winter and I want to make sure we are as safe as possible."
The £530m income trust has a control total surplus of £9.7m this year but has been forced to revise its financial plan after falling £8m into the red. Its cost improvement programme is £34m.
Mr Cubbon said: "Because we're doing less of the work that could bring us more income it means for a period of time we will take a hit on income, but this is part of an overall plan to reduce the significant reliance on unfunded capacity staffed at premium cost.
"We've factored that into our planning for the rest of the year but it puts an additional financial burden on us."
However, he added the aim is to reduce overall costs as the new unit is a key part of work to reduce length of stay and delayed patients.
Work has also started on a longer term solution through a new group at the trust exploring requirements for an expanded A&E and AMU, and how it can attract capital funding to achieve this.
Asked about timescales, Mr Cubbon said: "In the next months we should have an idea of what we think we need and I think it will be 3-6 months to work out what source of funding we might be able to attract."