NHS will not realise full savings from back office and pathology consolidations in 2016-17, Jeremy Marlow says
NHS Improvement productivity director says some STP areas will "deliver cash this year" from consolidation
"We're not going to take the keys off trusts," he promises
The health service will not be able to fully realise savings from planned back office and pathology consolidation in 2016-17, NHS Improvement's productivity director has told HSJ.
However, Jeremy Marlow said there were some sustainability and transformation plan footprints that would deliver "cash this year" from consolidation, and the rest of the NHS needed to "start now" with rationalising services.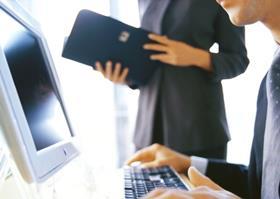 Mr Marlow worked on Lord Carter's review into improving NHS efficiency at the Department of Health and was seconded to NHSI this summer to head up its new operational productivity directorate, with responsibility for implementing the Carter recommendations.
In June, NHSI chief executive Jim Mackey and chair Ed Smith wrote to every trust chief executive requiring them to draw up plans for consolidating pathology, back office and "unsustainable" elective services.
The measures are part of an effort to get the 2016-17 provider sector deficit down from a planned £580m to £250m.
Mr Marlow said that pathology and back office consolidation could yield savings "in the order of half a billion [pounds]", but added: "We're not going to be able to get it out… in the space of five or six months."
He said consolidation could still contribute to bringing down the 2016-17 provider deficit.
"There are people close to – and probably have already got in their plans – consolidations that will deliver cash this year," he said.
"What Jim and Ed were saying is 'don't hang about, please – if you need help then we'll come and help you to start getting on with this because we need to start now'."
Mr Marlow said the regulator had received "quite a varied response" when it asked STP areas to submit their back office consolidation proposals.
NHSI is currently "base lining" the data to get a common set of efficiency metrics, and will then "segment" STPs to "target" support where it is most needed, Mr Marlow said.
It has also shared with STPs "basic types of models" for consolidation, ranging from one trust "providing an in-house service to other providers… right through to outsourcing the whole thing completely to a third party".
On pathology consolidation, he said NHSI would look "to learn from the people who have done it well", while also talking to those who had experienced difficulties "to try and bash through the problems they've got".
If a trust "can't make the number stack up" in a consolidation, NHSI needed to help them, Mr Marlow said.
"If that means changing the distribution of money a bit across the system, which we can help with in NHSI, we'll do that to make it happen."
While the consolidation plans have attracted criticism from the NHS pathology sector, Mr Marlow said it was necessary to eliminate unwarranted variation in pathology costs.
"If the way you configure and deliver your service means you're doing absolute optimal volumes of work, at the best possible cost per test, then why are we going to argue?
"Unfortunately, there's big variation out there and the evidence shows that when people do consolidate… they can reduce the cost per test, they can still give good service standards."
Speaking about his directorate's wider work, Mr Marlow said it would eventually employ 140 staff, with about half "centrally based, doing the number crunching, deciding what good looks like" and the other half "permanently based out in the regions" supporting trusts to improve their efficiency.
He said the directorate's approach would be based on a three stage improvement methodology he witnessed in the US.
NHSI will "jointly decide" with providers "what the issues are that need addressing", it will "centrally support" improvement, but then "stand back and let them lead it locally".
"We're not going to take the keys off [trusts], they have to do it themselves," he said.