A career change from theatre manager to temporary worker opened many doors for Rob Maskell. With flexibility and a variety of employers he is more motivated and has more time with his family. Jennifer Trueland hears why he never looked back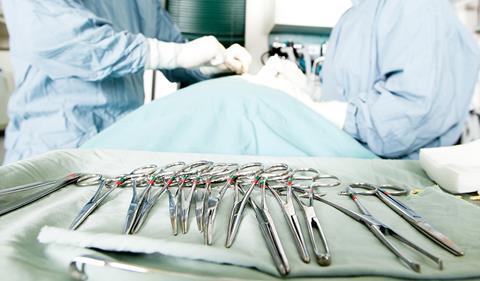 Surgical tools
As a surgical theatre manager, Rob Maskell recognised the value of bringing experienced temporary workers on board.
The availability of a well trained and motivated flexible workforce meant he felt confident he could provide a well staffed service, no matter what circumstance arose. That is why, when the 52-year-old decided on a career change, he had no hesitation becoming a temporary worker himself.
'I'm meeting people from all walks of life, and it's a great pleasure knowing I'm helping make their experience as good as possible'
Mr Maskell is a registered operating department practitioner, a role that involves working with the surgical, anaesthetics and theatre nursing teams to ensure that operations run as smoothly as possible.
It is clear that it is a job he loves. "It's a privileged role," Mr Maskell says. "I'm meeting members of the public from all walks of life, and it's a great pleasure to know that I'm helping to make their experience as good as possible.
"I was a patient myself when I was a child, so I think that helps me empathise with the people in our care."
Career change
Mr Maskell started out as a theatre porter and quickly worked his way up until he became a theatre manager in an independent hospital. Although he still loved theatre life, he was less convinced that a life in management was for him.
"I'm the sort of person who always goes the extra mile, so as a theatre manager I was always working over my hours," he says.
"I was thinking about work 24/7; I'd wake up at 3.30am thinking about it, so realised I had to make some changes."
At the time, he was employing flexible workers and confessed feeling some envy of their lifestyle. "I was a bit jealous of the locums," he laughs. "They did seem a wee bit more carefree. Plus, I really wanted to be working directly with patients again. It really fires you up, gets the adrenaline going - I love the job."
'Locums did seem a wee bit more carefree. Plus, I really wanted to be working directly with patients again'
Having hired locums through HCL Workforce Solutions, Mr Maskell approached the agency for a job and was impressed with the thoroughness of their processes.
Aspects such as fitness to work were investigated in depth, as were immigration status, references and qualifications. His health was also examined - almost exhaustively. "I didn't think I'd [have] any blood left after I registered with HCL," he laughs.
Now, he says, 99 per cent of his locum work comes through HCL, much of it for Royal Berkshire Hospital in Reading, but also for other employers.
This flexibility has added benefits for employers and himself personally. "Working across theatres in different hospitals gives me the chance to maintain and enhance my skills in a wide variety of theatre settings," Mr Maskell says.
Claire Billenness on how locums help fill more than just skill gaps
The national shortage of nurses and some medical specialties is widely acknowledged, and we are seeing a strong response from trusts and the NHS executive to plug gaps. However, in reality the options are finite:
Train more nurses and medics;
Retain qualified professionals;
Re-skill qualified professionals;
Recruit from a wider, external supply pool;
Promote and enable mobility and flexibility;
Make practice returns more affordable; and
Plug gaps with temporary staff.
While this flurry of activity continues, campaigners estimate that another 20,000 nurses will be required, adding around £700m to the national pay bill - a sobering thought. But what is more sobering is the low priority afforded to building flexibility and mobility into a fairly inflexible system.
A defining feature of our national healthcare system is that we just don't know how many patients we are going to need to treat in any given 24-hour period, and what impact their individual needs will have on workforce demand. An obvious conclusion is that the system must be able to flex to meet that demand, yet whole teams up and down the country are instructed to stamp out the use of locums, despite stringent framework agreements being in place.
At HCL we know the dire situation our NHS clients find themselves in, and we are working as hard as they are to source and supply high quality candidates with specific skills and experience to fill short, medium and long term gaps - often until the trust builds a convincing business case for a permanent post.
Bearing the "locum" stigma in mind, the flexible nurse or doctor is in fact the unsung hero in this unfolding drama. They inject instant skills and experience lacking at the trust, hit the ground running and provide that much needed hands on clinical patient care, and the much needed respite for flagging substantive colleagues.
They come in, do their job - usually at basic pay rates - and hand over to the next shift. No drama. No politics. No complaints. They have to fund their own training and development, and maintain continuing professional development in their own time.
It is long past time that the value of these highly skilled, efficient and effective professionals are recognised for the valuable role they play - not just for patient but in enabling the trust to fill skill gaps, meet minimum staffing levels and build a case for permanent solutions.
Claire Billenness, managing director of client solutions, HCL Workforce Solutions
Into independence
Although obviously committed to his work and colleagues, he also enjoys a slight detachment that comes with independence. "I think too, that as a locum, you're less embroiled in the politics of a place, and every workplace has politics," he says.
"You can move around if you want to, and are less likely to sit and mope and moan. Also, everywhere you go there are good points; I'm always looking for perfection, but will make do with excellence."
Taking his skills into different environments also helps the employer as they get a fresh, motivated and well trained worker who is keen to maintain his reputation, Mr Maskell says.
He takes ongoing training and compliance very seriously.
'You can move around if you want to, and are less likely to sit and mope and moan'
As well as meeting the mandatory requirements for HCL - including keeping up to date with training such as basic life support and manual handling - he regularly undertakes additional training at his own expense and in his own time.
"This benefits both myself and the hospitals I work for," he says.
Health and safety, and child protection are also covered in training. Being registered with the Health and Care Professions Council, he also makes sure he maintains an impressive continuing professional development portfolio.
Mutually beneficial
He has been working with Royal Berkshire for the last five years, adding that the continuity of the relationship has some mutual benefits. "An experienced locum will know what to do in all settings," Mr Maskell says. "But obviously it helps when you know the people and you know the layout."
Having been a theatre manager, he recognises the value of built-in flexibility. "The beauty of it from the employer's point of view is that if they know they will suddenly be two theatres down then they can turn off the tap. It's efficient for them to be able to do this," he says.
But does this make life uncertain for him? He laughs: "No, I just get on my bike and find another placement - well actually, I just get on the phone to HCL and say I'm available."
'I have a wonderful wife and a wonderful home'
His management experience also means he has a good understanding of the different roles in theatre and of the demands on theatre managers in particular. "I know they're getting pressures from all sides," Mr Maskell says.
Being a hard worker, he aims to put in a 48-hour week and has rarely fallen short of this target in his six years working as a locum. But he still enjoys more leisure time now than he did when he was working in a substantive post.
"I have a wonderful wife and a wonderful home," he says. "I'm not saying I don't think about work when I get home, but it's easier to switch off now; home is a different world, and I can be relaxed there."
He also loves gardening - recent projects include a wildlife pond - and, indoors he enjoys his tropical fish.
Having fallen into healthcare almost by accident - he and his wife had previously run a pet shop in Leeds - it is clear that Mr Maskell has found his vocation. His decision to work flexibly means that a variety of employers - and patients - can benefit from his love of the job.