Successful commissioners are aligning strategic workforce planning with staff training and development across primary care. By Jennifer Trueland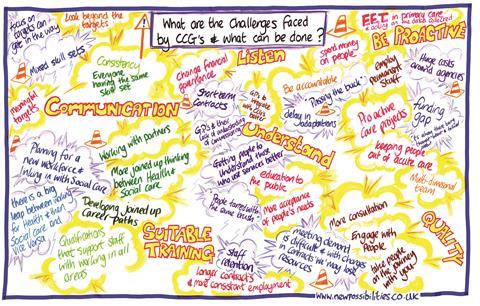 Taking workforce seriously: commissioners spelt out their challenges with many answers related to workforce
When the Primary Care Workforce Commission published its latest report in July, it made clear that change must happen -– and that developing the skills of staff was a key part of this.
Indeed, the commission's vision includes the aspiration that high quality education will be available to all staff working in primary care, to give them access to continuing professional development, and provide them with the skills they need.
The commission, however, also lays on the line the challenges that already face primary care and those that are just around the corner. Increasing workload, an ageing population and increasingly complex medical problems being diagnosed and managed in the community were just some of the issues highlighted in the report, which also points out that investment in primary care has fallen well behind that in hospitals.
None of this will come as any surprise to clinical commissioning groups – but what can be done about it? Taking workforce seriously is a good start.
More from this commissioning supplement
Capable workforce
Nick Harding, chair of Sandwell and West Birmingham CCG, says that having the right people, with the right skills, in the right place, is essential if the organisation is to achieve its own vision for the future.
"We know how important it is to have a fully trained and capable primary care workforce, equipped to deliver the care patients need," he says. "This has become an even higher priority for us since we were awarded full delegated responsibility for commissioning primary care medical services in April 2015."
His organisation has become the only CCG in England to be chosen as a National Skills Academy for Health Excellence Centre, an accolade which brings very welcome investment to help it make the most of its present and future workforce (see box below).
Developing excellence to bring opportunities to the community
Sandwell and West Birmingham was the only clinical commissioning group to be chosen as a National Skills Academy for Health Excellence Centre, and one of only six such centres in total. We're delighted to have this opportunity. It will enable us to really develop primary care and, particularly, general practice across our area.
The investment that comes with being an excellence centre will enable us to carry out an indepth workforce and skills analysis. This will help us work with local colleges and education providers to develop tailored education and training for our existing staff and for the workforce of the future. We'll have a very strong focus on young people during the three year pilot but, for the first year, we'll be concentrating solely on general practice.
This is an area where we feel co-commissioning gives us the chance to take a fresh look at the support needed as part of the overall primary care picture. We'll work with the National Skills Academy for Health and our training provider partners to:
develop new and innovative training programmes to ensure a highly skilled and fit for purpose primary care workforce;
support the recruitment of apprentices into healthcare support roles;
develop effective training for existing healthcare support workers;
establish career development pathways supported by identified training opportunities; and
share best practice, locally and nationally.
This will bring about tremendous opportunities within our communities - for young people wanting to develop a career in primary care; for existing primary care staff who want to enhance their skills; and for older people looking to return to the workplace after taking time out.
Our end goal is to become a self-sustaining regional training hub, working in partnership to provide apprenticeships and tailored training packages for healthcare support workers in primary care, local authorities, and voluntary organisations across the region.
We are not doing this alone. We are collaborating with three other local CCGs – Dudley, Birmingham CrossCity, and Birmingham South Central – covering a population of 1.2 million people. We recognise our partners are all in the same situation with regards to developing primary care and, therefore, delivering this pilot at scale can only bring about quality and workforce improvements for all.
Ultimately, we believe our involvement in this programme will help us improve quality and safety within healthcare, and provide the best possible service for our patients.
Nick Harding is chair of Sandwell and Birmingham CCG
The excellence centres – there are currently six across the country – will act as a hub to bring together health businesses across a region to encourage more consistent and better quality training through collaboration between employers, and education and training providers.
But this is only one way that the training needs of the healthcare workforce are being addressed, both nationally and locally. Individual bodies, such as CCGs, and wider organisations are looking at their own needs, and those of their local systems, to decide how best to continue squeezing as much as possible out of an often shrinking pot.
Marc Lyall, regional director for the West of England with Skills for Health, which works with employers to support skills development and workforce transformation, says that increasing numbers of CCGs are beginning to recognise the importance of a skilled workforce across primary care.
There is a growing awareness, he says, that good commissioning is a process that does not sit within one silo or organisation, but is effectively system wide. This means that only by getting to grips with the wider primary care workforce – examining its current skills and potential for development – will commissioners be confident that they are u p to the challenges ahead, and indeed, face current barriers too.
Action on crisis
"It's fair to say there's a bit of a crisis in general practice," he says. "[Health secretary] Jeremy Hunt has said he will invest more to get more GPs, but this will take time. CCGs and GP practices know that they need to take action now."
Skills for Health asked commissioners to tell them what the main challenges were and what they wanted to be done about it. There was a tremendous response, says Mr Lyall, with many answers related to workforce – such as the need to develop joined up career plans, and availability of suitable training (see image above).
'There is a bit of a crisis in general practice. CCGs and GP practices know they need to take action now'
Commissioners are increasingly talking to Skills for Health about taking creative approaches to make the most of their workforce, says Mr Lyall. This includes being imaginative about all members of staff, not just traditional roles such as GPs and nurses, and using methods such as e-learning and face to face training and education.
This chimes with the commission report, which also highlights the importance of strategic workforce planning, developing new roles, and encouraging better skill mix.
One example is South East London Commissioning Strategy Programme Office, which brought in Skills for Health to develop a healthcare assistant package to standardise skills, training and knowledge across six boroughs of the capital. The idea was to train HCAs to support practice nurses when capacity in general practice is stretched, which has well publicised knock-on effects on access.
The challenge, however, was that HCA training within general practice was not standardised or regulated, and there were no minimum or consistent standards of HCA skills or training.
Skills for Health, following consultation with stakeholders including the Royal College of Nursing and Londonwide Local Medical Committees, examined the existing landscape, produced a training needs analysis, a standardised role description, minimum standards and a training specification, as well as a training gap analysis.
'Creative approaches such as e-learning as well as face to face training and education are being used'
The South East London Commissioning Strategy Programme Office is now taking the recommendations forward, with the aim of transforming the HCA workforce and reducing pressures on primary care. Similar projects are taking part across the country, says Mr Lyall, often at the instigation of GP practices themselves, that recognise that they need to address issues such as high vacancy rates and an increasing workload transferred from secondary to primary care.
Of course the very issues they are trying to address are among the reasons it is difficult for CCGs, and primary care more broadly, to take this agenda on. In some cases, there is a lack of capacity, confidence and expertise available to develop a strategic workforce strategy and development plan.
"People in the health service are working bloody hard," says Mr Lyall. "But in too many cases they're having to be reactive – unless there is really strong leadership in an organisation, too often people aren't given the time to be creative."
He says there are potentially big wins to be had when CCGs embrace the need to dovetail strategic workforce planning with training and skills development. "It's as much about the process as the outputs, in some ways," he says. "You really learn a lot about your people and organisation, and about the value of collaboration and stakeholder engagement."
In the foreword to the Primary Care Workforce Commission, chair Martin Roland, says that many "exceptional people and teams" had taken opportunities to create new and innovative ways of working, and that the way forward included better and smarter ways of working. The challenge to commissioners is to ensure that what is now regarded as "exceptional" becomes mainstream.
Find out more at skillsforhealth.org.uk
Commissioning supplement: The right services at the right time
1

2

Currently reading

Supplement: Nurture talent to commission successfully

3

4