There is "strong argument" to prioritise funding for social care rather than NHS, says Simon Stevens
NHS England chief warns it would not be prudent to assume any extra NHS funding in the "next several years"
There will be an announcement in July on "re-set" of NHS funding
The chief executive of NHS England has said there is a "strong argument" that ministers should prioritise allocating any additional funding available to social care services rather than the NHS.
Simon Stevens used his speech at the NHS Confederation conference on Friday to dampen down any expectation that the NHS would receive additional funding in the coming years, despite the unprecedented financial challenge facing the service.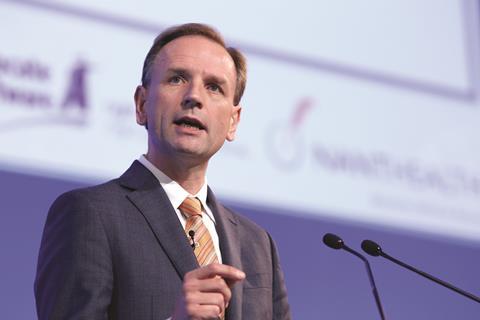 He said: "I do not believe it would be prudent for us to assume any additional NHS funding over the next several years, not least because I think there is a strong argument that, if there were extra funding to be available, frankly, we should be arguing that it should be going to social care…
"The social care funding piece is unfinished business. It is obvious that there is going to be a widening gap between need and funding… There is uncertainty about what the back end of [this parliament] looks like given the way the way the business rates are being recycled into the local authority funding settlement.
"The national awareness about [the social care funding crisis] has moved from denial to acknowledgement and now we need to move form acknowledgement to solution and that is something that I and colleagues are advocating, pushing and working on both publicly and behind the scenes."
Mr Stevens also revealed that there would be a further announcement by ministers on a "re-set on the money" for the NHS in July – but he warned this did not mean additional cash would be made available.
He said: "It certainly is going to be about a re-set on money and the performance that goes with that in 2016-17… There is purdah and all the rest of it, but I'm sending as clearer 'Bat signal' as I can that this [financial pressure] is going to be heading all our ways sooner rather than later.
"The earlier in the financial year that we adjust our plans to deal with our run rates so that we don't get out of whack and then end up doing panic measures come the autumn, the better for everybody."
He told HSJ after his speech that final control totals will be published for trusts in mid-July, and providers will need to commit to those numbers. They will come to a figure that can be covered in the DH group accounts at year-end, he said.
HSJ understands there will be no extra funding in addition to the sustainability and transformation funding.
Mr Stevens was also at pains to stress that he accepted how "bloody tough" the coming years would be given the funding allocation for the NHS up to 2020.
In a comment which suggests Mr Stevens accepts the £8bn of additional funding for the parliament secured in the comprehensive spending review will not be enough, he said: "Let's not rewrite history, in the forward view we actually said that the NHS would need between £8bn and £21bn by 2020 in order to sustain and improve.
"And to be at the lower end of that range, we would need to see continuing access to social care, relative to need, we would need to see enhanced effort on prevention and public health, and we would need to see transformation, support in the way of capital and revenue, and we have memorialised all of that, it is the recap briefing available on the NHS England web site so everyone can see what we actually said when we set out our stall back in 2014 and the forward view."
Stevens: Give any extra funding to social care over NHS
1

Currently reading

Stevens: Give any extra funding to social care over NHS

2

3