NHS providers across a quarter of England must meet four out of 10 clinical standards for seven day services during 2016-17
Local areas told they must achieve nine 'must dos' including eliminating NHS deficit
Focus on achieving waiting time and care access targets
Every local health system has been issued with nine essential priorities that have to be achieved during 2016-17 along with a specific ambition linked to the delivery of seven day services.
The nine key targets issued by the six national NHS organisations include a focus on local system-wide planning, eliminating the NHS deficit and meeting key waiting time targets in acute and mental health services.
The 2016-17 NHS planning guidance document, published today, also demands local NHS areas work to reduce the number of "excess deaths" across England by increasing consultant cover on hospital wards and improving access to diagnostic services at weekends.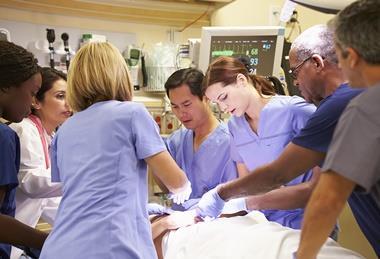 By the end of March 2017 NHS providers covering a quarter of England will be expected to meet at least four out of the 10 clinical standards for seven day services, which were originally published by NHS England in December 2013.
Half of the country will be expected to meet the standards by 2018 ahead of "complete coverage" across England by 2020.
In August providers were told to focus their efforts on four targets including all emergency admissions being reviewed by a consultant within 14 hours; access to key diagnostics; consultant-led decisions across seven days and twice daily reviews for all high dependency patients.
Originally NHS England had expected all 10 clinical standards to be achieved by March 2017 but this target has been relaxed following the spending review and timetable for the Five Year Forward View.
The guidance also demands better access to primary care services at weekends and evenings "where patients need it" through increased capacity in future years.
Access to out of hours care will also be expected to be enhanced through "better integration and redesign of NHS 111, minor injuries units, urgent care centres and GP out-of-hours services."
The nine 'must dos' for 2016-17 include:
Produce a sustainability and transformation plan for the health economy.
Return to "aggregate financial balance" with secondary care providers delivering savings through the Lord Carter productivity programme and caps on agency spending. CCGs will be expected to save money through reducing variation and implementing the Right Care programme in every area.
Develop and implement a local plan to address the sustainability and quality of general practice, including workforce and workload issues.
Achieve waiting time targets for A&E patients and ambulance response times.
Improve and maintain performance against the 18 week RTT target.
Deliver the 62 day cancer waiting time target, including the two week referral and 31 day treatment targets. The guidance also calls for progress in one year survival rates by increasing the proportion of cancers diagnosed early.
Achieve and maintain new mental health waiting time targets which include more than 50 per cent of people experiencing a first episode of psychosis being treated within two weeks of referral and 75 per cent of people with common mental health conditions being referred to talking therapies within six weeks of referral, with 95 per cent treated within 18 weeks. Areas will also need to diagnose two thirds of their estimated population that has dementia.
Improve care for people with learning disabilities including improved community services and reducing inpatient facilities.
Providers will be required to publish avoidable mortality rates annually.
NHS England to trial two new models of care
NHS England is looking for secondary mental health providers interested in taking on care budgets for specialist services, as part of an extension of its programme to trial new models of care.
Planning guidance for 2016-17 states that national bodies plan to trial two new approaches within the new models of care project in the coming year.
These include:
secondary mental health providers managing care budgets for tertiary mental health services; and
the "reinvention of the acute medical model in small district general hospitals".
Organisations interested in trialling either of these new models of care need to register their interest by 29 January 2016 by emailing england.fiveyearview@nhs.net.
Planning guidance: Access to billions in transformation funding tied to quality of 'system leadership'
1

2

3

Currently reading

NHS told to achieve nine 'must dos' during 2016-17

4