Leaked document reveals plan for nursing associates to calculate and administer controlled drugs
Internal HEE curriculum framework leaked ahead of Department of Health decision on regulation
Expansion of role to include administering drugs is a "recipe for confusion", says professor of nursing policy
EXCLUSIVE: Nursing associates will be expected to calculate drug doses and independently administer controlled medications, leaked documents have revealed.
Health Education England internal papers, seen by HSJ, show the proposed curriculum for nursing associates, and describes how the band four workers will also be allowed to carry out invasive procedures on patients without the direct supervision of a qualified nurse.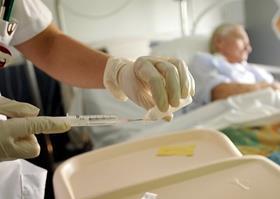 Allowing a band four clinician to calculate and administer controlled drugs would be a significant shift in responsibility away from registered nurses. The Royal College of Nurses has warned that the role should not be a substitute for registered nurses.
The documents show HEE officials have established a curriculum before any official decision has been made by the Department of Health on whether nursing associates should be regulated and by which organisation.
Studies have shown dangers for patients in substituting non-qualified staff for qualified nurses.
In February, research into staffing levels at 137 acute NHS trusts between 2009 and 2011 found trusts that employed more healthcare assistants relative to the number of beds had an increased risk of mortality. The risk of death decreased by 7 per cent for every additional bed per HCA.
Last year global safe staffing expert Linda Aiken, director of the Centre for Health Outcomes and Policy Research at Pennsylvania University, said the plan to create a nursing assistant role was "crazy". She said evidence in the US showed employing licensed practical nurses – the US equivalent of nursing associates – increased mortality and poorer outcomes.
The HEE document appears to pre-determine the scope of practice for the new role in setting out specific skills nursing associates should be capable of after their two year training course, which will begin for the first cohort of 2,000 in January.
In the "delivering care" section, the document says: "By the end of the programme, the trainee nursing associate will be able to deliver planned nursing interventions… in a range of health and/or care settings under the direction of a registered nurse without direct supervision, delivering care at times independently in line with an agreed/defined plan of care."
It says they will be able to assess, plan, deliver and evaluate care, as well as recognise deteriorating patients.
The document says nursing associates will "correctly and safely undertake medicine calculations; administer medicines safely and in a timely manner, including controlled drugs". The document says this will only happen where deemed appropriate and set out in organisational medicine management policies.
Associates will also be expected to be able to "correctly and safely receive, store and dispose of medications".
Anne Marie Rafferty, professor of nursing policy at King's College London, said she was concerned about the proposals: "It does not appear to be well thought through and is a recipe for confusion within the nursing profession, the public and other professions such as doctors about who is doing what in clinical practice.
"What are these people not able to do? What would be the sole preserve and prerogative in terms of scope of practice for the qualified registered nurse? It also raises questions over accountability because of the confusion it will create."
She said it was vital the role was based on the best available evidence, properly piloted and evaluated before being rolled out across the NHS.
Lisa Bayliss-Pratt, director of nursing at HEE, said the curriculum framework had been developed as a guide for education providers "to ensure they provide what the NHS needs within their offer."
She added: "We have developed this framework as a result of wide consultation across the health and education systems, listening and responding to their needs to ensure this role plays a key part in a multidisciplinary team that focuses on quality of care.
"HEE's response to the consultation makes clear that this new role will support registered nurses and employers are expecting to deploy them as such."