Nitin Chaturvedi and Akshay Agarwal discuss how empowering clinicians to lead transformation efforts will create an NHS fit for the future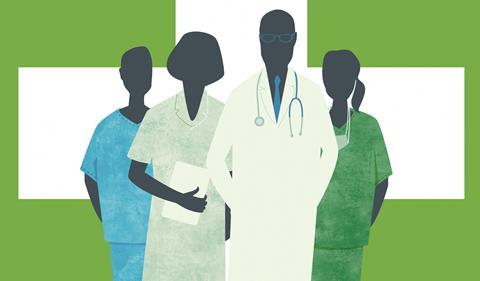 The government marked the NHS's 70th anniversary by committing to increase the health system's budget by £20 billion annually through 2023. This was likely welcome news to frontline providers that have historically been underfunded, but spending alone cannot alleviate the system's burdens.
Sponsored by

To keep pace with demand, the resource-stretched NHS must leverage new technology and realise the workforce's full potential, chiefly by engaging doctors. A Bain & Company survey reveals that for transformation efforts to stick, doctors must commit to shaping improvements.
Unfortunately, though, they feel little ownership over influencing change. Notably, 14 per cent of NHS doctors expect to change their profession or leave the country over the next five years, and the NHS has the lowest Net Promoter Score (a measurement of satisfaction and loyalty) among its peers from other major European countries (see Figure 1).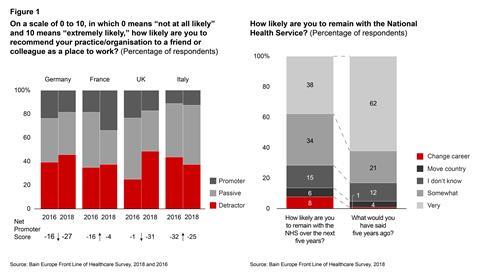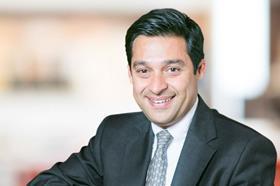 Nitin Chaturvedi
Frontline disengagement results from years of inadequate funding and pay freezes. In addition, metrics that focus on process measures, rather than patient outcomes, have contributed to doctors feeling undervalued. Operational inefficiencies resulting from too many hospitals and few centres of excellence are stretching scarce resources, and there are not enough initiatives to adopt digital innovation to improve productivity.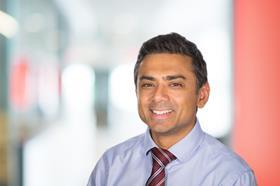 Akshay Agarwal
Increased funding will bring much needed relief to a system struggling to satisfy demands. A majority of this funding should go toward innovation in care quality. Our survey found five key areas for deployment:
Create an enterprising vision for NHS trusts as change agents by employing a system wide service line review, forming centres of excellence to define global standards and expediting reform.
Incentivise plans that help trusts reach their full potential by scrutinising productivity strategies. The key building blocks to increasing individual trust productivity are long-term operational improvements across sites, revenue enhancements and asset optimisation.
Empower clinicians to lead transformation efforts, ensuring that there is sufficient time for clinical engagement as well as open communication channels to leadership.
Overhaul NHS leadership and training programmes for doctors, focusing on CEO recruitment, training and retention. A majority of doctors have concerns about skills gaps, and more than 90 per cent of doctors believe that these skills gaps will affect patient outcomes.
Use targeted investments to accelerate the adoption of technology that improves efficiency and quality of care. Doctors believe that digital and IT initiatives will have more impact than other initiatives. Additional funding in technology must meet at least one of four objectives: improve clinical outcomes, increase productivity, engage the workforce or reduce demand through better education of the broader population. Doctors report that investments in digitising patient-related data, improving data quality from clinical trials and increasing the use of smart health technology lead to the greatest improvement in quality of care (see Figure 2).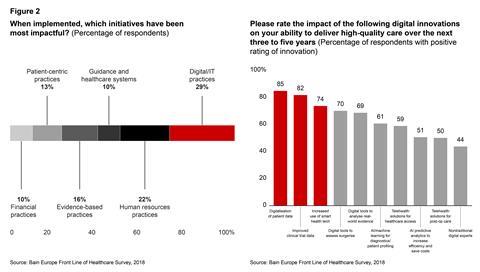 The NHS must invest in solutions that support innovation, operational efficiencies and frontline engagement. Decision makers will need to tackle the issue of a disheartened front line. By advancing an ambitious agenda – one that engages and empowers doctors by pursuing a superior model for healthcare delivery – the NHS will be better positioned to continue delivering high quality care in a changing economic landscape.
Nitin Chaturvedi is a partner and Dr Akshay Agarwal a principal with Bain & Company in London. Nitin leads Bain's Healthcare practice in the UK, of which Akshay is a core member.
Read more about Bain's 2018 UK Front Line of Healthcare Survey here