BME staff have reported increases in experiencing bullying, harassment or abuse — from patients, relatives, the public and their own colleagues — since 2016
Some indicators have also deteriorated for white staff, according to latest data
But gap in experiences between white and BME staff has widened over the past three years
Black and minority ethnic staff in the NHS are suffering from increasing levels of bullying, harassment and abuse, according to new data exclusively revealed by HSJ.
The latest Workforce Race Equality Standard report from NHS England, due to be published shortly, shows deterioration across four of a total nine indicators. These four indicators — which relate to the "cultural" experience of staff — have worsened since data was first recorded in 2016.
Three of the four have also seen deterioration for white respondents — but for all of them, the gap between the experiences of white and BME staff has widened over both the past 12 months and since 2016.
The indicators which have worsened for BME staff are:
The share of BME staff reporting bullying, harassment or abuse from patients, relatives or the public rose from 29.1 per cent in 2016 to 29.8 per cent in 2019. The gap between BME and white respondents grew from 1 percentage point to 2.
The same percentage, but from colleagues, has seen the largest increase — from 27 per cent to 29 per cent over the same period — and the gap grew from 3 to 4.8 percentage points.
The share of BME staff believing their trust gives equal career progression and promotion opportunities fell from 73.4 per cent to 69.9 per cent. That gap grew from 14.9 to 16.4 percentage points.
The share of BME staff experiencing discrimination at work from a manager, team leader or other colleague climbed from 14 per cent to 15.3 per cent. The gap grew from 7.9 to 8.9 percentage points.
Other WRES measures improved slightly within the past 12 months.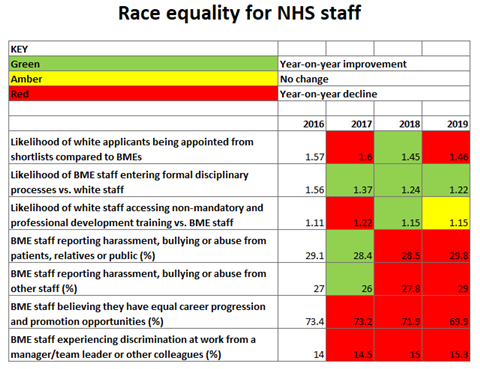 The measure for the likelihood of BME staff entering formal disciplinary proceedings compared to white staff has improved again, but not progressed as much compared to previous years.
In addition, overall strides in ensuring BME staff are accessing non-mandatory training and continuing professional development programmes have also stalled between 2018 and 2019.
Although the percentage of BME board members across all NHS trusts has increased to 8.4 per cent, this remains "significantly lower" than the BME proportion of the workforce (19.9 per cent).
Despite this, London went from 16 out of 40 of its NHS trusts having zero BME board members in 2014 to all of them having at least one since December 2019. This has been seen as a "significant milestone" by NHSE.
The report read: "NHS employers are making genuine progress towards equalising core HR processes of recruitment and selection, training opportunities and disciplinaries. And, over the last four years, the number of BME very senior managers has increased by 30 per cent.
"However, staff survey results lag these HR changes, with continuing high levels of reported concerns on key WRES indicators."
It added: "It is also evident from longitudinal WRES data that closing the gap and making improvements in operational indicators (recruitment, disciplinary action, access to non-mandatory training) has little immediate impact on those indicators that reflect how it feels to work in an organisation.
"A holistic approach to tackling workplace inequality is needed. A dual focus on operational interventions and cultural transformation is required. These are two sides of the same coin."
Update 4.30pm: The report has now been published by NHS England, you can access it here.
Speaking after the publication, NHSE WRES director Yvonne Coghill said: "This report highlights the enormous amount of work that has been done to improve the experiences of black and ethnic minority staff in the NHS and it also shows clearly we need to do more to become a fully inclusive, equitable and fair employer."
Updated 14 February: With chart