Research by HSJ and Unison has found an absolute increase of 9.7 per cent in violent attacks on NHS hospital staff
Physical attacks on NHS staff working in acute hospitals rose steeply last year, according to exclusive research by HSJ and Unison.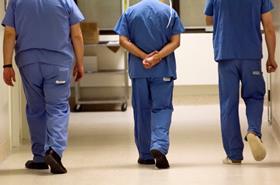 The year 2016-17 was the first when information on staff attacks was not collected nationally, following the abolition of NHS Protect.
HSJ submitted freedom of information requests to all NHS trusts and received responses from just over 75 per cent. The research revealed sharp increases in attacks on staff working for acute trusts, but also a levelling off in assaults within mental health settings.
The work is part an HSJ special report sponsored by Unison, which explores the reasons behind the rise in violence and the variation across NHS trusts.
The responding trusts' data showed 56,435 reported physical assaults on NHS staff in 2016-17. Extrapolating numbers from this sample to cover the whole NHS in England, this suggests there were an average of just over 200 reported physical assaults on NHS staff every day.
When measured per 1,000 staff (to account for growth in the NHS workforce), reported attacks rose by 6 per cent between 2015-16 and 2016-17. The absolute increase between the two years was 9.7 per cent.
Commenting on the findings, Sara Gorton, head of health for Unison, said: "This report reinforces what we suspected. The number of violent assaults is rising. Yet worryingly the collection of data about assaults, and the criminal or civil sanctions that should follow, are simply not happening in a robust or consistent manner. It's very difficult for trusts to know if they are doing well in protecting their staff when there are no figures they can compare to. Staff and patient safety needs to be paramount within the NHS. It can never be acceptable for staff to feel that regular assaults are simply 'part of the job'.
"The data worryingly shows a strong correlation between trusts that have higher deficits and those where violent assaults have increased. In workplaces that are struggling financially, there are likely to be staff shortages and longer waiting times for patients – all leading to pressures on patient services and increased stress for individuals… It's shocking that when assaults are on the increase, the government has decided to look the other way."

Across the 104 acute trusts covered by the research there were 18,720 reported physical attacks on staff during 2016-17 – 180 per organisation on average. This represents a rise of 3,251 on 2015-16, or 21 per cent.
On an "assaults per 1,000 staff" basis, the 2016-17 increase for these 104 trusts was 16.7 per cent.
In reviewing this data, two associations stand out strongly.
The first is in trusts which are performing poorly against the referral to treatment elective care target. Trusts whose year end performance was under 90 per cent saw an average 36.2 per cent increase in reported attacks. Trusts in this cohort include Lancashire Teaching Hospitals Foundation Trust and Hull and East Yorkshire Hospitals Trust.
The second association is financial balance. The 26 trusts, all but one acutes, reporting a deficit higher than £20 million for the 2016-17 financial year experienced an increase in reported attacks of 23.1 per cent on 2015-16. Trusts in this cohort include North Bristol Trust and University Hospitals of Leicester Trust.
Contrastingly, at the 37 trusts (22 of which were acutes) reporting a £5 million plus surplus at year end assaults increased by just 1.5 per cent.
Levels of violence against staff working in mental health trusts remain much higher than elsewhere in the service. Across the 39 mental health trusts covered by the research there were 33,820 reported physical assaults in 2016-17; 867 per organisation on average.
However, mental health trusts do appear to be having some success in preventing the situation from worsening. In the 20 dedicated mental health trusts surveyed, there were 17,360 violent assaults in 2016-17: an increase of 825 (or 5 per cent) on 2015-16. In the 19 combined mental health and community trusts, there was an increase of 249 or 1.5 per cent.
However, when analysed on an "assaults per 1,000 staff" basis across these 39 trusts, the level of attacks was broadly in line with those recorded in 2015-16.
Other significant differences from the average 9.7 per cent increase in reported attacks included assaults up by:
25.7 per cent in specialist trusts – albeit from a very low base;
21.5 per cent in dedicated community trusts;
15 per cent in organisations employing more than 4,000 staff; and
14.5 per cent in ambulance trusts.
Trust responses
Karen Partington, chief executive of Lancashire Teaching Hospitals FT, said, "We have been working with staff to encourage all untoward incidents to be recorded, so better reporting is a factor in this increase. However, we are also seeing more acutely unwell and elderly patients, who may unintentionally assault staff as a result of their medication or condition.
"Staff welfare is really important to us, and in the past year we have introduced a range of measures to protect them, including increased security, conflict resolution and breakaway training, mental health and learning disability nurses on our wards, traumatic incident support service, and counselling. We also investigate every incident to ensure action can be taken to prevent recurrence. We are continuing to work with staff on our wards to see what further action we can take to safeguard them at work."
Nick Howlett, health and safety services manager at University Hospitals of Leicester, said: "It is very disappointing to see such a rise in assaults. We take all such threats against our staff very seriously and will not tolerate disruptive, insulting or violent behaviour. We have made great strides this year in our overall security management.
"We have increased our training provision as well as the number of security officers, and will shortly have our third local security expert. We also continue to work in collaboration with local organisations and Leicestershire Police on a number of initiatives and are beginning to see the benefits of this."
Hull's response can be found within the full report.
Exclusive: Dramatic rise in attacks on hospital staff
1

Currently reading

Exclusive: Dramatic rise in attacks on hospital staff

2