NHS Improvement to monitor trust's implementation of safe staffing guidance
Approach will be "risk based" to avoid adding to burdens on provider trusts
Ruth May says NHS is more aware of and transparent about workforce issue
Hospital trusts will face formal assessment by NHS Improvement to ensure they are using safe staffing guidance and making "safe and effective decisions", HSJ can reveal.
In an exclusive interview, NHSI executive nursing director Ruth May said the regulator would take steps to ensure trust boards were using the staffing guidance developed in the wake of the Mid Staffordshire scandal.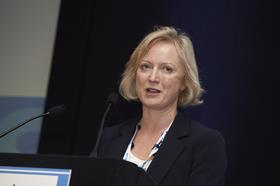 Last month, NHSI published the final batch of safe staffing guidance documents covering a range of care settings including inpatient wards, mental health and community services.
She said: "The big thing I want now is for them to be used. I don't want them left on a shelf… I want to see the tools being used properly."
"We are developing work to make sure when people are making decisions and doing their plans around workforce planning they are actually having a proper quality impact assessment process and a proper decision making process that it is auditable and at board level."
Mark Radford, director of nursing improvement, added: "We recognise that there has been an inconsistent approach in the past to the implementation of guidance in relation to this and we will be setting out in the new financial year to support the system to make the right decisions."
Asked what this will mean for trusts, he said: "NHSI will monitor their implementation of the resources and tools they use and the application of the guides and safe staffing decisions. There will be a series of recommendations coming from NHSI which will formally support decision making at board level in regards to safe staffing decisions trusts need to make.
"We will look to assess organisations in delivering what we have set out as the best approach to make safe and effective decisions – evidence tools, professional judgement and oversight by the board and monitoring the outcomes."
Ms May said assessments would be carried out using a "risk based approach" to begin with and would be based on existing reporting to boards, which should not increase the regulatory burden on trusts. She said NHSI was already offering "step-in" support to half a dozen nursing directors to support them in workforce planning conversations with their boards.
The safe staffing guidance was developed by NHSI after NHS England and the Department of Health and Social Care suspended work by the National Institute for Health and Care Excellence – which was recommended to do the work by Sir Robert Francis QC. He has since criticised NHS leaders for shying away from the issue and warned current safe staffing data was not robust.
Ms May said Sir Robert had given his view on the guidance and his comments were taken on board.
She added: "We have significant vacancies in the nursing workforce but actually I am also proud that we are now talking about nurse staffing whereas we didn't sufficiently before [the 2013 Francis report].
"Back then, we were having board papers in some providers that weren't on the public agenda and now they are. That may have caused an issue in terms of how many vacancies we have but, on the whole, we are using evidence based tools to decide, with professional judgement, how many staff we need. We didn't use evidence based tools comprehensively before."
Mr Radford added: "We do have greater levels of understanding and we have more use of tools and boards more sighted on the issue. The system has a much better handle on the challenges and the problems and is able to make better decisions. There is quite a significant vacancy challenge, which we are working with trusts to resolve."
Exclusive: NHS Improvement to monitor hospital staffing
1

Currently reading

Exclusive: NHS Improvement to monitor hospital staffing

2