Provider sector deficit forecast to be £930m by end of 2017-18
Forecast is £300m worse than in quarter two
Year to date deficit excluding STF was £2.47bn
The combined deficit of NHS trusts is now forecast to grow to £930m by the end of 2017-18, according to figures published by NHS Improvement today.
This would be a deficit almost twice the size of the £496m planned at the start of the year.
The forecast has worsened by around £300m over the last three months. At the midway point of the year it was £623m.
HSJ revealed yesterday that the deterioration has been largely driven by trusts with heavily backloaded savings' plans.
The latest figures will pose further questions about the NHS's ability to balance its books and could trigger increased scrutiny from the Treasury.
The deterioration comes despite the one-off income boost of £337m announced in the budget in November, 70 per cent of which has gone to the provider sector.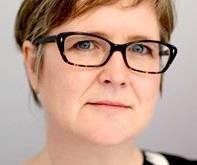 There are risks around hitting the new forecast because it depends on trusts delivering significant levels of planned savings over the final quarter of 2017-18 and reporting a combined surplus for the final quarter of £350m.
These risks are acknowledged in NHSI's report, which said there are now fewer non-recurrent savings available, as many of these had been used in previous years.
If the actual run rate from the first three quarters continues, the deficit would increase to almost £1.5bn. The run rate is arguably a better indicator of underlying financial performance.
The new forecast and the year to date position are also a deterioration against last year's performance, which can be compared by stripping out the £1.8bn sustainability and transformation fund in each year.
The actual year to date deficit at quarter three was £2.47bn, excluding STF, compared to £2.24bn in 2016-17.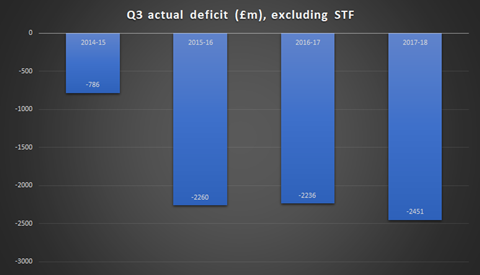 NHSI said trusts had been hit by higher than planned levels of emergency activity, for which expenditure tends to exceed income, and lower than planned levels of more profitable elective work.
Around £140m of overspending was due to higher than expected outsourcing of care to private providers, while a planned real terms cut to the pay bill has not materialised.
However, trusts have still delivered cost improvement savings of 3.3 per cent in the year to date, against the planned 3.9 per cent. The report also included productivity figures for the first time, which have been calculated by reviewing changes in provider costs, compared to changes in provider outputs, adjusted for inflation.
Saffron Cordery, director of policy and strategy at NHS Providers, said: "Today's figures show that NHS trusts continue to generate significant productivity gains – 1.8 per cent so far this year, which is nine times more than the UK whole economy and nearly twice the NHS's historical average.
"In the first nine months of the year NHS trusts have realised more than £2.1bn of savings – which is 3.3 per cent of total spend and around £100m more than last year. But plans required them to save 4 per cent. If trusts are asked to deliver the impossible, it's not surprising there's slippage against plan during the year."
NHS Improvement chief executive Ian Dalton said: "Some providers appear to have managed the financial pressures better than others. We are working closely with those providers whose financial position has deteriorated seriously to ensure that they grip their problems while delivering the best possible care for their patients.
"It would be unrealistic to assume the demand which has been building for a number of years is going to reverse. Local health systems need to work together to plan for capacity in future years that can meet the increasing levels of demand that we will continue to see."
Revealed: 58 trusts admit they will miss financial plan
1

2

3

Currently reading

Updated: NHS trusts predict £930m deficit