HSJ's survey finds much to celebrate for LGBT staff and users – but many challenges remain. By Alex Blyth
When back in the spring HSJ first began discussing with NHS Leadership Academy the possibility of publishing a special supplement focused on the experiences of people who identify as lesbian, gay, bisexual and transgender within the NHS, both as users and employees, it was with some trepidation.
'When HSJ first began discussing this supplement, it was with some trepidation'
Would we be opening a can of worms? Would individual sexuality be something that NHS employees would be comfortable talking about? Would LGBT clinicians, nurses, managers, leaders and frontline staff be happy to be "celebrated" in this way? What would it show about the attitudes of NHS institutions to this important community?
We needn't have worried. Our survey clearly resonated with HSJ readers, with around 800 people responding.
A list that matters
Respondents were also keen to nominate people they identified as LGBT "role models", whether within their trust or more widely. Readers who identified as LGBT were encouraged to self-nominate, and many did, again illustrating the importance of this issue to many who work in the NHS.
The fact we were examining this topic also drew plaudits, with Dame Julie Moore, chief executive of University Hospitals Birmingham Foundation Trust - who you will see later on is one of our inaugural 25 HSJ LGBT Role Models - writing in to endorse what we were doing.
But her comments also, arguably, highlight how far the NHS still has to go, both in terms of its attitudes and the extent to which it encourages people to be "out" and open about their sexuality.
She said: "I recently gave a talk to an LGBT group in the Midlands and as part of this wanted to identify other senior NHS people who are open about being LGBT. No one in a senior role readily came to mind, implying there are none or they are not out.
"Over the years I have mentored young gay people in the NHS and public services. Through doing this I know that some people are still not comfortable being open to their work colleagues, despite the advances made in recent years such as civil partnerships and now gay marriage.
'Some people are still not comfortable being open to their work colleagues, despite advances made in recent years'
"And so lists like this one matter. It can only help promote understanding and openness, thereby allowing staff to be comfortable in themselves at work and in the long run this will benefit our patients."
Campaign group Stonewall, in its publication Sexual Orientation: a guide for the NHS, has calculated that the approximately 3.3 million people who identify as lesbian, gay and bisexual in England provide through their taxes funding of £6bn a year to the NHS.
To this, of course, has to be added the estimated 300,000- 500,000 trans community in the UK, although figures for this population are much more sketchy. More than 100,000 NHS employees also identify as lesbian, gay or bisexual.
In workforce and in health terms the LGBT community matters to the NHS. According to Stonewall, lesbian and bisexual women are on average twice as likely to have never had a cervical smear test compared with women in general.
Half of lesbian and bisexual women are not "out" to their GP. Some 3 per cent of gay and bisexual men have attempted to take their life in the last year, compared with just 0.4 per cent of men in general. One in four gay and bisexual men has never been tested for sexually transmitted infections.
People who are trans, too, can have very specific health needs, including surgery and hormone medication. There may often be significant mental health needs, with people who are trans generally at greater risk of depression, self-harm and suicide.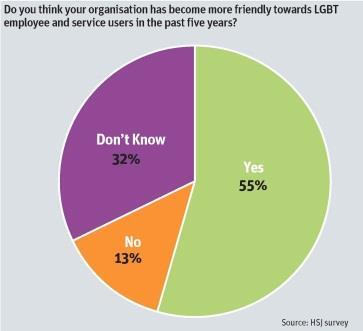 Still much to do
Since the introduction of the Equality Act 2010 all organisations within the NHS have been required proactively to promote equality for their lesbian, gay, bisexual and trans staff.
So, how is it doing? This is where our survey came in. As a headline, generally, it appears the NHS is doing OK in terms of encouraging tolerance, openness and being "LGBT friendly". But drill down into the figures and it is clear there is still work to do, especially around how the service deals with homophobic, biphobic or transphobic behaviour or comments from colleagues or service users.
In broad terms, respondents were positive about what their NHS institutions were achieving in terms of attitudes, initiatives and support for the LGBT community. More than three-quarters (78 per cent) of respondents felt their organisation was friendly towards LGBT employees, with just 6 per cent disagreeing and the remaining 19 per cent offering no strong opinion either way.
A similarly high proportion (74 per cent) felt their organisation was friendly towards LGBT service users, with only 7 per cent disagreeing.
The NHS, it is clear, is working hard to make itself a more welcoming, understanding, tolerant and positive environment for LGBT employees and service users. More than half (58 per cent) of respondents said their organisation collected data on the number of LGBT staff, with 51 per cent reporting support for an LGBT staff network group and 46 per cent confirming that their complaints policy procedure addressed sexual orientation or gender identity.
'It is important that we recognise and celebrate the work people in this list are doing'
Within this, the presence of employee support groups such as Health with Pride, the Gay and Lesbian Association of Doctors and Dentists and the Royal College of Nursing LGBT staff group is important, as is the work of local service user support groups and, more widely, the advocacy and support of organisations such as Stonewall, the Terrence Higgins Trust, the Beaumont Society, NHS Employers and the NHS Leadership Academy, among others.
Sir Nick Partridge, a healthcare and HIV/AIDS activist and campaigner and former chief executive of the Terrence Higgins Trust, suggests these findings should be reassuring to LGBT employees or service users. "Anyone who is worried about coming out at work or stating their sexual orientation or gender identity to a healthcare professional should feel emboldened to learn that the NHS is an organisation that actively embraces diversity," he says.
Sir Nick, one of the judges for our LGBT role models list, agrees the NHS has made much progress in this area in the past five years, something echoed in our survey, with more than half (55 per cent) of respondents saying their organisation had become more friendly towards LGBT employees and service users in this timeframe.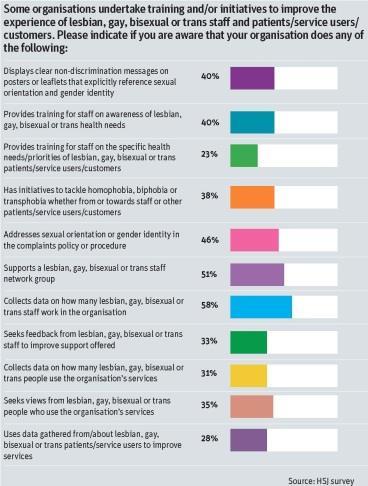 Changing attitudes
"To some extent this reflects broader societal changes, and we should bear in mind that homosexuality was only declassified as a mental illness by the World Health Organization as recently as 1992," he observes.
"However the NHS has done good work training staff as a key element of its commitment to diversity. Also, we have seen some important role models emerge. Many are named in our list, and I believe it is important if we are to make further progress that we recognise and celebrate the work these individuals are doing," he adds.
Yet the survey also makes it very clear the NHS cannot afford to rest on its laurels.
'The survey makes it very clear the NHS cannot afford to rest on its laurels'
When asked how people viewed the level of inclusion and support offered to LGBT staff, an intriguingly mixed picture emerged. Around a quarter (25 per cent) described this as "outstanding" at their own organisation, while 24 per cent felt their own organisation could do better. But, when it came to the NHS as a whole, just 4 per cent rated it outstanding, with 44 per cent thinking it could do better.
There was also something of a mixed picture when respondents were asked about the extent of training for staff around the health needs of LGBT service users.
More than a third (40 per cent) confirmed their organisations provided awareness training around LGBT health needs, yet just 23 per cent took this a step further and provided training on the specific health needs and priorities of LGBT service users. This is clearly an area where parts of the NHS need to focus.
Worryingly, this sense of "could do better" also deepens when a problem emerges, such as an individual experiencing homophobic, biphobic or transphobic behaviour or comments.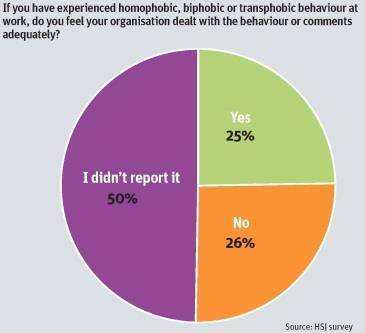 More than a third (36 per cent) of respondents had experienced this sort of behaviour or comments from colleagues, while 29 per cent had experienced it from service users. For whatever reason - stiff upper lip, "professionalism", fear, cynicism - around half did not report it. Of those who did, around a quarter (26 per cent) felt their organisation had failed to deal with the behaviour or comments adequately.
"While there is much to celebrate in this survey, there are also findings that should make us stop and think," concedes James Taylor, head of policy at Stonewall, and also a judge for our list.
"We have found excellence in many parts of the NHS - notably in urban centres and in mental health trusts - but the picture is not uniform, and I hope that this report acts as a wake-up call to all those parts of the NHS where support, training, and leadership around LGBT issues is not what it should be," he adds.
Decision to come out
Finally, a worrying finding from our survey is that 10 per cent of respondents were not "out".
Coming out is, of course, an intensely personal decision and there are likely to be many factors as to why someone makes a decision either way. But for Helen Stevens, head of engagement at NHS Leadership Academy and another LGBT Role Models judge, what this statistic potentially says about the NHS should ring alarm bells.
"Sexual orientation or gender identity is an important element of who a person is, and for thousands upon thousands of people to feel they have to leave that aspect of themselves at home when they come to work should be a matter of concern for any organisation," she says.
"For the NHS, which is not only one of the largest employers in the world but is also tasked with the healthcare provision of each and every one of us, it is a matter of pressing concern."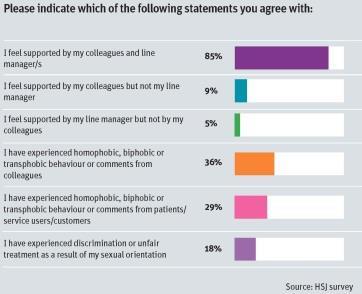 Helen Stevens on a great start
When the NHS Leadership Academy and HSJ explored the possibility of an LGBT list, we weren't sure what response it would generate. So much so that we set a conservative estimate of just 12 people for the list.
I grew up in the 1980s, where being openly lesbian, gay, bisexual or trans was a move so bold the consequences were likely to include the loss of friends, family and colleagues. I and many others kept my sexuality secret, avoided relationship conversations and hid the real "me".
In the last three decades, society has moved on. Not least thanks to legislation. The armed forces removed its ban on people serving openly in 2000, the age of consent was equalised regardless of sexual orientation in 2001 and same sex couples could have a civil partnership in 2005. And, as of this year, I can get married.
Although the nervousness is still there, what overrides it for me is the power of role models. The 1980s were devoid of "out" LGBT people, but look at some of today's - Ellen Page, Paris Lees, Nick Grimshaw, Jane Hill, Tom Daley, Nicola Adams, Ben Whishaw, Clare Balding - they show us that it's OK. It's incredibly powerful for people, particularly young people, working out who they are.
I applaud them, and I applaud the 100 people who were nominated for this HSJ list. Yes, that's right, 100. We completely underestimated the response.
What's more, the accompanying survey looking at attitudes towards LGBT people in the NHS received the highest response ever to an HSJ survey.
Every year, The Independent on Sunday publishes its Pink List. This is from last year's editorial: "When the first Pink List was published in 2000, it was essentially a list of 50 influential people who were brave enough to be 'out'. This year we received more than 1,300 nominations and had to reduce thousands of… contenders to just 101."
Wouldn't it be amazing if HSJ's list started to do the same for the NHS? Today's supplement highlights 25 inspirational people working in and with the NHS who just happen to be lesbian, gay, bisexual or trans - and I hope this is just the start.
Helen Stevens is head of engagement at NHS Leadership Academy
HSJ reveals first ever LGBT Role Models list
1

2

Currently reading

LGBT survey findings: Raise the rainbow flag

3

4