Jennifer Trueland on the system that controls access for suppliers and industry reps to trust areas, improving patient safety and infection control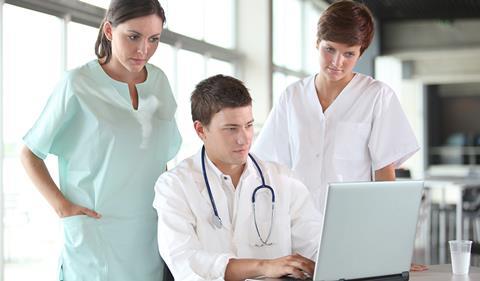 Hospital staff using computor
When George Anderson first heard about healthcare representative credentialing, it was as if a light bulb had come on in his head.
'A credentialing system seemed to be the answer to some of the issues we were facing'
"I just thought, wow, this is exactly what we need," he says. "It seemed to be the answer to some of the issues we were facing, and I was very keen to find out more."
Two years later, Leeds Teaching Hospitals Trust, where Mr Anderson is senior category manager working in procurement, has become the first UK trust to implement the Reptrax credentialing system.
Accessing suppliers
Healthcare representative credentialing allows hospitals to control access by people representing suppliers, or potential suppliers, such as reps from pharmaceutical and medtech companies.
By controlling access to sensitive areas such as operating theatres it has the potential to contribute to trusts' efforts to combat healthcare associated infection, as well as ensuring that procurement processes are followed properly, with a consequent impact on efficiency.
It is widely used in the US, and, indeed, it was on a trip to Boston that Mr Anderson's colleague first came across it, bringing the idea back to Leeds.
"So many people visit Leeds," he explains. "At Leeds General Infirmary alone we can have 25-30 visits per day. We deal with around 3,000 companies, 500 of them regularly. With seven main sites, including two teaching hospitals, some of them considerable distances apart, it can be a challenge. Even managing one site is a challenge."
'It has the potential to contribute to trusts' efforts to combat healthcare associated infection'
Healthcare representative credentialing essentially does what it says on the tin: it ensures that reps who are visiting hospitals have the correct training and meet the required criteria to do so safely.
For example, if a rep, as the acknowledged expert in a particular piece of equipment is attending an operation, trusts need to know that procedures won't be compromised. This means making sure that the person has the relevant vaccinations - for example, against hepatitis A and B, or flu - and has also completed the relevant qualifications, for example, a theatre access course.
"This is important for patients, as you don't want someone who isn't aware of the protocols leaning over and infecting them," says Mr Anderson. "Plus, it's important for the expert to be protected."
After an unsuccessful search to find an appropriate system in the UK, Leeds turned to America. "We picked IntelliCentrics' system Reptrax for a number of reasons," he says. "It was by far the largest, and we felt the charging model was reasonable.
"I also liked the fact that I never have to look at the credentials - if someone has a badge, I know that he or she has the qualifications and meets the criteria required.
"It can take six or seven minutes to check each person - imagine the queue if you were doing that for 50 people a day. But this system allows the rep to book in, and we can be confident that everything is in order."
A bespoke service
Since that approach, IntelliCentrics has set up a UK division, and has adapted its Reptrax system for UK healthcare systems. Part of this was simply down to anglicising spellings and terminology, but it was also about creating a bespoke suite of options to suit UK trusts.
For example, the system can differentiate between requirements of different hospital zones. For instance, people visiting areas where there are children or other vulnerable groups will need the appropriate and up-to-date DBS (previously CRB) check.
Reps themselves (who have to pay a fee to be registered with Reptrax, the system being free to NHS trusts) have largely been accepting, says Mr Anderson. "They know it's the right idea - they know that trusts have a duty of care to their patients, and it's for the benefit of reps too that the safety procedures are in place."
'People visiting areas where there are children will need the appropriate and up to date criminal checks'
According to Azadar Shah, managing director of IntelliCentrics in the UK, healthcare representative credentialing is a way of life in the US but is only just beginning to take off here. Like the Leeds experience, other managers have been inspired by the American example.
"Around three and a half years ago, a group of health service managers from the UK went to the US on a best practice mission - and were asked to sign in to the visitor compliance and credentialing system. They were impressed by what they saw and enquired further about it, and it happened to be the Reptrax system. We've now been here since the middle of last year, and have been working with Leeds to develop their bespoke system which fully launched in April."
A good credentialing system has multiple benefits for trusts, he says, and has a big impact on efficiency, partly through helping to control the risks of healthcare associated infection, and by improving compliance with procurement.
"Too often trusts simply don't know how many healthcare reps they have coming through their doors. I'm not saying anything against reps - they do a good job supporting hospitals. But there needs to be transparency.
"We have a situation where poor old procurement gets beaten up - unfairly - because there is disparity in pricing between hospitals, and even between wards in the same hospital. But if it isn't clear what's happening, then how can they be expected to enforce procurement processes?"
At the moment, trusts tend to rely on vendor companies to ensure their reps are trained and compliant with policies around things like HAIs, says Mr Shah. "The best companies are already doing this - and these are the people who are welcoming credentialing," he says. "They see it as an advantage that their representatives can show they are doing the right things."
For Mr Anderson at Leeds, having a credentialing system seems like the absolutely natural step for a trust which has always been at the forefront of e-enablement. And he believes it's only a matter of time before the rest of the health service follows. "I think trusts recognise that they need to be far more aware of who is going in and out of hospitals, particularly clinical areas where there are vulnerable people.
"As a concept, healthcare representative credentialing's time has come."
HSJ efficiency supplement: Yes we scan, the case for smaller MRI scanners
1

2

3

Currently reading

Patient safety: The UK's first 'credentialing' system

4

5

6

7