How trusts are using compact scanners to save money, improve patient experience and reduce waiting times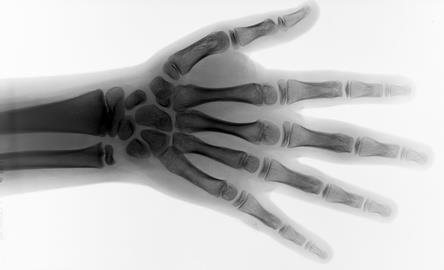 LYTHAM ST ANNE'S AND COPENHAGEN
Consultant radiologist Roger Bury has been a UK pioneer in the use of compact MRI for extremities scanning.
His company, Direct Medical Imaging, based in Lytham St Anne's, Lancashire, has recently bought its second compact unit from Esaote, having been very happy with the quality of the first.
Dr Bury, who also works as a consultant diagnostic and interventional radiologist at Blackpool Teaching Hospitals, says the O-Scan scanner performs well in imaging areas such as knees and feet. Indeed, he believes it is actually better for some areas, such as hands, than the traditional full body scanner.
"The image quality for the wrist and hand is fantastic," he says. "The patient is in a comfortable position, so the limb remains still. In the full-body scan the patient lies in a 'Superman' position - and even the fittest people start shaking, which obviously has an effect on the image."
Thumbs up
He spent quite some time trying to find a smaller scanner which suited the purposes of Direct Medical Imaging, which sees both private and NHS patients.
"It was important to me that the image quality would be at least as good as the whole-body scanners I use in my NHS practice," he says. "Image quality is the most important thing. But the other benefits are that this is substantially cheaper to buy, install and run - and it doesn't take up much space; in fact we have it in the room the size of someone's dining room!"
Patients really like it, he says, because they don't have to lie in an enclosed, noisy whole-body scanner. "Even patients who aren't claustrophobic really appreciate it," he says.
Direct Medical Imaging, which also offers whole body MR imaging, as well as ultrasound, plain x-rays, and other forms of medical imaging, has contracts with local clinical commissioning groups for direct GP referrals.
One contract is specifically for knees, which means that these form the bulk of work performed by the dedicated extremities scanner. The new scanner complements the centre's whole-body scanner, and also provides new scan sequences to allow better assessment of cartilage and bone.
'Even patients who aren't claustrophobic really appreciate it'
As a consultant radiologist of many years' experience, Dr Bury says it has taken time for his colleagues to recognise the benefits of a dedicated extremities scanner.
"There was a lot of scepticism," he says. "I used to get comments like 'how's your fridge magnet?'. But I think that attitude is beginning to change, and people working in the NHS are beginning to see the benefits."
In mainland Europe, compact scanners are more widespread and, in some cases, are helping doctors to do things they have been unable to achieve with whole-body scanners.
Reducing patient pain
Dr Mikael Boesen is an MSK specialist radiologist and research lead at the Parker Institute in Copenhagen, where he is using Esaote's G-Scan. This machine allows images to be taken of weight-bearing joints (unlike whole-body scanners where the patient is supine).
Two or more images showing what happens when the joint is bearing weight, and in different positions, can give a better idea of the mechanical issue which might be causing patients pain.
"We're still working on it - this is very new," says Dr Boesen. "But it's something we can't do with the large scanners.
'I believe that smaller scanners are best used in a radiology department where there are high-field scanners too'
"It helps the patient to know why they have the problem. It doesn't affect everybody - perhaps around a third of our patients - but it means we can give them an explanation."
Smaller scanners are also coming into their own in other clinical areas, such as rheumatology, he says, while they are being increasingly utilised in trauma patients. "They can depict fractures that wouldn't show up on plain x-ray," he says.
"I believe that smaller scanners are best used in a radiology department where there are high-field scanners too, then you can decide what is needed in each case."
Back in the UK, Dr Bury, a past president and secretary of the British Society of Cardiovascular Imaging, and past chairman of the North West Regional Radiologists, hopes the day of the "fridge magnet" comments are ending. "It's a good choice in terms of image quality, cost and size. Patient feedback has been excellent too. We're very happy with it."
ROYAL PRESTON HOSPITAL
Lancashire Teaching Hospitals Foundation Trust has turned a financial drain into a revenue stream by investing in a compact MRI unit. Used for extremities, such as knees, feet and hands, the Esaote O-Scan is helping the Royal Preston Hospital to reduce waiting times and to reduce expenditure on private sector scans.
Importantly, however, it also means the department can now offer direct GP access, bringing additional income to the trust.
According to consultant radiologist Dr Chooi Oh, the new scanner is having a positive impact on patients, as well as the financial bottom line.
"Although the trust had three high field large MRI scanners we were finding it difficult to keep up with demand," he explains. "There was a particular demand for musculoskeletal scans, for knees in particular. We don't actually need a large scanner to do that."
Knew what they needed
The trust started to consider buying a smaller scanner in 2012, but the money only became available last year. By then, managers - and radiologists - had done their homework and had decided that what they needed was a smaller scanner to complement and relieve pressure on the larger machines.
The doctors in particular needed to be convinced that the image quality would be good enough, says Dr Oh. "We insisted that we wanted to see it in action, so went to see one in Berlin," he says. "We were very happy with the image quality so were pleased to be able to go ahead."
'We've had no patient unable to be scanned with the new machine'
The new scanner is a better experience for patients, he adds. "It's much smaller and it isn't nearly as scary or daunting to the patient - you don't have to enter a doughnut," he laughs. "We've had no patient unable to be scanned with the new machine, and we haven't had to repeat sections [because a patient has moved making the images unusable]."
Some of his colleagues have been sceptical about whether you can get sufficiently good images with a smaller magnet, he concedes. "I'm quite clear that we manage to get images that are more than adequate for diagnosis," he says. "Reporting is consistent with images from larger scanners."
Size does matter
Size does matter, he says - but in a positive way. "This machine takes up much less floor space; we've managed to convert an old office."
He actually believes that, for certain purposes, the smaller scanner performs better than the trust's existing large machines. "Knee images are very good in particular. I think that cartilage is better seen on the smaller machine, although that could be because our larger scanner is quite old now."
Radiology and scanning in particular have taken huge strides in the last 20 to 30 years, he says, with the advent and widespread take-up of once revolutionary technologies such as CT and PET scanning. But the field is still developing, and he believes that a wide range of scanners can work well together to provide an effective and efficient service.
"We've been able to cut waiting times for extremity scans, which is great for patients and helps us meet our targets," he says. "It means that patients can get a diagnosis more quickly, and can start treatment earlier. For some patients that means they can get back to work more quickly.
'We've been able to cut waiting times for extremity scans, which is great for patients and helps us meet our targets'
"It also means we're spending less on buying scanning capacity from the private sector.
"And because our capacity has improved, we've been able to open it to GPs, bringing new business to the trust."
According to Russell Dineley, general manager of the trust's imaging directorate and medical imaging department, finding a cost-effective solution to rising demand for MRI scans was an important driver in the decision to invest in the O-Scan.
"Our requirement was for additional MRI procurement that was cost-effective, hence our decision to purchase the O-Scan, which requires less space, less power, and lower capital expenditure in terms of associated building costs, compared to a large bore system.
"Our consultant radiologists are extremely satisfied with the image quality and have been pleasantly surprised that patient throughput time is comparable to that of large bore scanners."
HSJ efficiency supplement: Yes we scan, the case for smaller MRI scanners
1

2

3

4

5

Currently reading

Technology case studies: 'Patients really like it'

6

7