Today is NHS Change Day, when thousands of NHS staff will pledge to improve patient experience, care standards and clinical outcomes to bring a culture change in our national health service. In only its second year, Change Day has already captured the attention of the NHS workforce to become a social movement.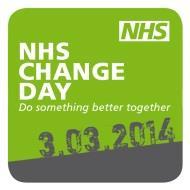 But for every Change Day supporter there are an equal number of sceptics who allege that is simplistic and patronising. Yet there is no denying that in a relatively short time it has mobilised frontline staff, managers and even patients to make a big or a small difference.
On hsj.co.uk today, Dr Damian Roland, a senior paediatric registrar at University Hospitals of Leicester Trust and one of the early co-founders of NHS Change Day, looks at how people power can be harnessed to change reform healthcare and improve services.
The event has inspired a global offshoot, with Australia deciding to adopt the principles of the Change Day. Healthcare consultant Mary Freer says since Australia's health service faces similar pressures as the NHS the model could be emulated on an international scale.
In addition, we are running a brief poll alongside NHS Change Day to find out what you think can be done to improve the NHS. Please do answer the questions and see how closely your priorities are aligned to those of the public.
NHS Change Day: a new social movement
1

Currently reading

NHS Change Day: a new social movement

2

3

4

5

6

7