Jeremy Hunt says he would be surprised if STP areas are able to reduce nurse numbers
Health secretary says lesson of Mid Staffordshire scandal was wards need to be properly staffed
New roles should assist qualified nurses and not serve as substitutes, he says
Jeremy Hunt has told HSJ he would be surprised if any sustainability and transformation plan areas managed to reduce their numbers of registered nurses.
The health secretary said he was clear on the lesson from the Mid Staffordshire scandal that hospitals needed to have safely staffed wards.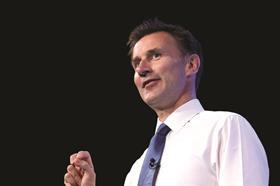 He also said there was scope for new roles that could compliment and support trained nurses but these should not substitute nurses.
In recent weeks, two STPs have been published that refer to skill mix changes to save millions of pounds, including reducing registered nursing posts.
The final draft of the Buckingham, Oxfordshire and Berkshire West STP revealed plans to save £34m through a "reduction of nursing grade input" and greater use of "more generic support workers".
The Nottinghamshire plan included an appendix that featured an indicative proposal to save £12m, including a 12 per cent cut in "core" staff groups such as band five nurses, social workers and therapists.
Mr Hunt said: "The lesson of Mid Staffs is that you need to have properly staffed, safely staffed wards.
"I don't want to be rigid or inflexible about new roles, but if you ask me whether it is likely that local areas are going to be able to reduce the number of trained nurses, I would be very surprised if any actually managed that. That is why we are looking to train an extra 40,000 nurses [during this parliament]."
But he added: "With the pressures on the NHS we will need to ask ourselves whether there are current roles that could be done by staff who are not trained nurses."
He cited one example of staff used to deliver training for talking therapy services, which in the past would have been delivered by mental health nurses.
In his speech at the NHS Providers conference today, Mr Hunt said: "I know there has been some concern that the significant level of judgement needed to operate as a nursing associate, and their role in administering medicines, means that a stronger regime of assurance is necessary to ensure safe and effective clinical practice.
"Nursing associates are not there to replace registered nurses but to support and complement them. But I have listened carefully to what has been said and agree that, on balance, statutory professional regulation is a necessary and proportionate requirement for this important new role."
He said there will be a consultation early next year to establish whether there should be regulation of physician associates, who will support doctors in hospitals, primary care and community services.
Hunt: Introducing NHS general management may have been a 'mistake'
1

2

3

4

Currently reading

Health secretary says STPs unlikely to reduce nurse numbers