Survey suggests agencies are struggling to fill NHS shifts following introduction of pay caps
Monitor says the majority of trusts are not struggling to find temporary staff but a third of providers have said it is more difficult
Jim Mackey says NHS's financial challenge "should not be at the expense of patient safety"
The ability of recruitment agencies to find nurses and doctors to fill gaps in hospital shifts has worsened since the introduction of hourly pay caps, HSJ has been told.
A survey by the Recruitment and Employment Confederation, shared with HSJ, revealed 80 per cent of 97 agencies which responded said they could only supply staff for up to half of the requests made by the NHS in January.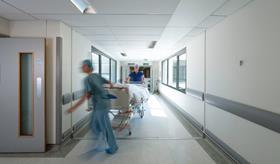 This compared with 53 per cent out of 61 agencies last June, before the introduction of the hourly caps in November. This could suggest agencies are struggling to persuade workers to take on shifts because of lower rates of pay.
The REC said demand for staff had stayed broadly the same – 33 per cent of agencies received more than 100 requests per week on average in June, compared with 35 per cent in January.
However, Monitor told HSJ that 64 per cent of trusts had told the regulator it was no more difficult to fill a shift following the introduction of the caps. It also confirmed that 36 per cent of trusts had said it was more difficult to fill shifts.
REC policy adviser Victoria O'Brien said: "Recruiters are receiving the same level of demand from the NHS now as they were before the caps, but the amount of vacancies they are able to fill has dropped considerably because fewer nurses, doctors and allied health professionals are prepared to take the shifts.
"This certainly begs the question, how is the NHS compensating for this shortfall? Are there fewer healthcare professionals on wards because of the caps?"
She added: "We warned NHS Improvement about the dangers of rushing through caps at the worst time of the year.
"Skills shortages in areas such as A&E and critical nursing are well documented and quickly spreading to other staffing groups. Patient safety is at risk if these departments are understaffed."
Last week, the National Audit Office's review of workforce supply said it did not believe the agency caps alone would address the NHS's reliance temporary staff. It said: "While these measures may encourage some agency staff to return to permanent NHS positions, our view is that they are unlikely in themselves to address fully the underlying causes of the increased demand for temporary staff.
"Reducing trusts' reliance on temporary staff in a sustainable way is likely to require a broader, more strategic plan which also covers actions arising from the review of operational productivity in NHS providers."
Monitor has been urged to ensure the policy, announced by Jeremy Hunt last year, does not leaving NHS wards understaffed and there have been calls for it be more transparent over data related to the agency caps implementation.
Last month the regulator said the hourly rate caps, which were reduced further at the start of February, were having a positive effect with the number of shifts breaching the rates falling by 40 per cent in the first six weeks of the policy.
Monitor chief executive Jim Mackey said: "We know that clinical leaders are taking decisions every day to make sure wards are staffed safely, with rotas based on the needs of patients and sound clinical reasoning.
"The challenge we have been set by government is to get a grip of NHS finances, which we are doing. However, this should not be at the expense of patient safety – the two must go hand in hand.
"Staff are better off seeking substantive employment within the NHS and picking up extra shifts through staffing banks than relying on agencies."