Alex Heritage gives a lowdown on the role of the NHS Transformation Unit and how it helps senior leaders implement complex change

This is paid-for content from our commercial partners. Find out more
In association with
The NHS Transformation Unit supports the NHS to change care for the benefit of patients across the country. This series of articles focuses on the importance of culture and its impact on the next generation of leaders.
The only constant is change.
Whilst I'm sure that the ancient Greek philosopher Heraclitus was not referring to the NHS, I think he sums it up well.
As the New Year started, I digested the NHS Long Term Plan and noticed the number of NHS Chief Executives retiring or moving on.
This led me to think about the future and more specifically how are we preparing for a new world which requires new leaders.
NHS leaders often need to balance the demands of organisational efficiency whilst accommodating transformation at a place or system level. All this amidst a new cohort of digital native patients and staff that often have high expectations of the workplace and NHS services. An issue or cause is easily weaponised using social media to amplify and spread within hours. Hard jobs just got harder.
The NHS often responds with a plan or strategy. Whilst necessary and useful, I often reflect on Peter Drucker's quote "Culture eats Strategy for Breakfast". The current plan is clear:
To make this Long Term Plan a reality, the NHS will need more staff, working in rewarding jobs and a more supportive culture (NHS Long Term Plan, 2019. P.78).
Although it does sound quite similar to:
The NHS has to move from a culture where it bails out failure to one where it rewards success (NHS Plan, 2000. P.28)
True Values?
At the heart of any organisation needs to be a clear statement of its values. When we created the NHS Transformation Unit (TU) we worked with independent organisational psychologists to better understand our culture and values. It became apparent that people did not connect with our original values. This allowed us to create new values where everyone had a voice and input in shaping them.
Through this process it was clear that our new values needed to mean something to everybody. This led to defined TU behaviours that brought the values to life. These are often used to guide things we do, from helping with tough decision making to measuring our performance. Our values were then visually displayed in our office and at every whole team meeting we focus on one value in depth. Regardless of size or purpose, every organisation should ask the question, "Do we have true values?"
Trust
The NHS Transformation Unit is not a typical NHS organisation. We have developed a team of 60 professionals and experts to support NHS change from within. Often we are asked to support a number of organisations to make complex change simple. To do this, we created a non-traditional workplace and culture built on our values. In turn, this has built trust between team members. There is a non-hierarchical structure where everyone's voice is heard and open communication explains decisions and direction, often through non-traditional communication. We celebrate and actively encourage flexible working arrangements underpinned by digital platforms allowing all team members to work how and where they want. Ultimately, we stay focussed on delivering for our clients rather than counting how long we've been sitting at our desks.
The roles and work are demanding, often involving complex and testing situations. Every member of the TU has a personal health and wellbeing plan which forms a key part of how we all manage our work. The contents vary but at the centre is the need to trust and support every individual to succeed. It is our strong belief that by supporting all our team members fully they will provide the best support to our clients and in turn improve patient care.
Audrey Abbott, Graduate Trainee Project Manager said: "As a graduate it's really exciting to work for one of the UK's Best Not-For-Profit organisations. The focus on learning and development means that there are endless opportunities at the TU. One of my favourite aspects of working here is the importance and value placed on culture. All of our work (internal and external) centre around our four values (people focused, integrity, driven and empower), and these are seen every day in how we work together and with our clients. The TU has created an open and supportive environment which, as a graduate, is really inspiring and has cemented my passion for working in the NHS."
So what?
We strongly believe that we cannot support senior leaders and clinicians through their complex change if we do not practise what we preach.
Change in the NHS is often complex and places additional pressure and requirements on those involved. In order to effectively support senior leaders and clinicians, we realised the TU needed to provide a different type of support. Too often the NHS reaches for external support that often is not able to meet the needs of complex change and rarely allows for NHS teams to be empowered to continue the change. Specifically, the TU is for the NHS by the NHS.
After 18 months of launching the new values and behaviour, the TU Board commissioned an external staff survey to seek an independent assessment of team engagement and culture.
The NHS Transformation Unit was awarded a Three Star Accreditation, which is the highest standard of workplace engagement and reflects 'extraordinary' levels of workplace engagement. We were also named as a Sunday Times Top 100 Not-for-profit Companies to Work for.
This recognition provides us with a strong foundation to build upon and strengthen our resolve to create cultures that will encourage future leaders to continue to focus on achieving transformative change for the benefit of patients.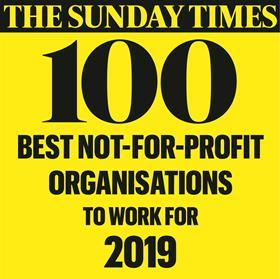 The NHS Transformation Unit (TU)
If you are interested in hearing more about the TU, please call 0161 967 0300, email transformationunit@nhs.net or visit our website
The Sunday Times Best Companies survey is the UK's benchmark for rating and celebrating the very best employers to work for.
For more information about the Sunday Times 100 Best Not-for-Profit Organisations to work for visit: www.thesundaytimes.co.uk/best100companies

Alex Heritage is chief executive of The NHS Transformation Unit.
Transforming Cultures
1

Currently reading

Transforming Cultures

2