Providing healthcare professionals with refresher training and advice on the use of auto-injectors has been key to improving care in Norfolk and Buckinghamshire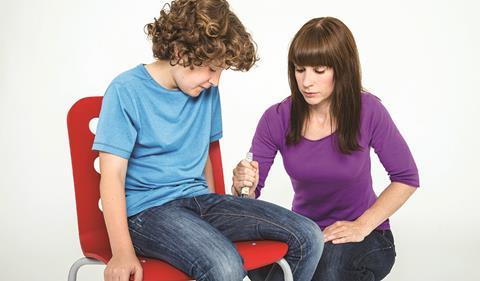 Anaphylaxis autoinjector
Ian Small, formerly pharmacy adviser for NHS Norfolk and now at the commissioning support unit, admits that he had not really been aware there were any issues with anaphylaxis provision in his area.
"It has just gone along as a normal thing," he remembers. "There haven't been any incidents in the past that I can recall, and adrenaline auto-injectors had been quite a small cost as well. So anaphylaxis hadn't come up as an issue and therefore when I saw a representative who talked about Jext, the question for me was: what can you do for me that's not there already?"
The answer quickly became clear. "Once we'd talked it through, I realised that there were issues that hadn't been addressed; that had kind of been hidden under a stone for a long time. And the main one was refresher training.
"We sent out letters saying we intended to change auto-injector device and that training is on offer," he explains. "Interestingly, when that letter went out, some prescribers admitted it was years since they had last been trained in this area."
It was a gap which the PCT and ALK-Abelló, manufacturers of Jext, worked together to fill.
"The letter said to contact the person from ALK about the training, and many practices did phone up and e-mail and said: actually, I would like some training," explains Mr Small. "In addition, the Jext representative went along to the local pharmaceutical committee and demonstrated the device to them as well, so the pharmacists who dispense it were involved too.
'Ask your nurses and GPs if they are confident in demonstrating the usage of an auto-injector'
"Every single pharmacy in Norfolk has now been visited by somebody from the company, to give a dummy injector and to show the training pack," he continues. "So when a pharmacist gives out a new device and the patient says it is different from the last one, the pharmacist is able to reassure the patient. They can feel confident that they know what they're talking about and can demonstrate it to the patient, show that this is what you do to administer it."
While the choice in Norfolk was to focus on GPs and pharmacies, over in Buckinghamshire ALK-Abelló has trained an even wider group.
"If you were to draw a flowchart or map of the people who needed training in Buckinghamshire, there were a few key job roles who impact on a patient from diagnosis to chronic management," explains key account manager Steve Ogram. "That includes various people in secondary care - A&E, paediatrics, adult allergy, respiratory, dermatology and so on. All of those needed some sort of training.
"Then GPs and practice nurses were another group. And school nurses - we trained school nurses on every site in Buckinghamshire."
Sarah Crotty, the PCT pharmacy adviser who recommended the switch and worked with Mr Ogram on it, says that having properly trained professionals leads to reassured and well informed patients and carers. "If you were a mum or a carer of somebody who might need an auto-injector, just the fact that people have taken the time and effort to make sure you know how to use it makes people feel safer and feel looked after, I think."
Mr Small, meanwhile, has simple advice for anyone who considering whether they should review anaphylaxis provision in their local area.
"I would say: ask your nurses and GPs if they are confident in demonstrating the usage of an auto-injector. Just ask the question - how confident are you with the governance of somebody using adrenaline?
"Or even ask when did you last have training. I think most people will say, 'actually, I can't remember'."
Anaphylaxis − an HSJ supplement
1

2

3

Currently reading

Auto-injector case studies: needle craft

4

5