Health secretary says new contract will deliver increases in basic pay plus premium pay for weekend work
Imposition follows three years of no progress on talks with the BMA
Heidi Alexander tells says imposing a deal is a "sign of failure"
Health secretary Jeremy Hunt has said the government will impose a new contract on junior doctors in England after Sir David Dalton said there was "no real prospect" of a deal with the British Medical Association.
Mr Hunt told the House of Commons today the government would move to introduce the contract after three years of talks with the BMA had resulted in no progress towards a deal despite both sides agreeing the existing contract was not fit for purpose.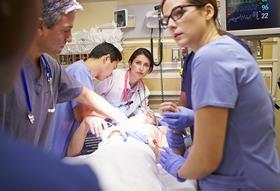 He told MPs: "Along with other senior NHS leaders and supported by NHS Employers, NHS England, NHS Improvement, the NHS Confederation and NHS Providers, [Sir David] has asked me to end the uncertainty for the service by proceeding with the introduction of a new contract that he and his colleagues consider both safer for patients and fair and reasonable for junior doctors. I have therefore today decided to do that."
Mr Hunt said the new contract would:
deliver a 13.5 per cent basic pay rise for junior doctors and additional pay premiums for doctors who work one in four weekends or more;
mean pay for night shifts covering 9pm-7am, and starting at 5pm on Saturdays and all day Sundays; and
include a number of restrictions on consecutive days and nights doctors will be rostered to work.
In recognition of wider "discontent" among junior doctors Mr Hunt said the president of the Academy of Medical Royal Colleges, Sue Bailey, would be asked to lead a review into wider morale and wellbeing of junior doctors – a key recommendation made to the government by Sir David.
Mr Hunt said the premium pay for Saturdays was "higher on average than that available to nurses, midwives, paramedics and most other clinical staff. It is also a higher premium than that available to fire officers, police officers or those in many other walks of life".
He added: "Our strong preference was for a negotiated solution. Our door remained open for three years, and we demonstrated time and again our willingness to negotiate with the BMA on the concerns that they raised. However, the definition of a negotiation is a discussion where both sides demonstrate flexibility and compromise on their original objectives, and the BMA ultimately proved unwilling to do this.
"In such a situation any government must do what is right for both patients and doctors."
Labour shadow health secretary Heidi Alexander said imposing a contract was "a sign of failure" and criticised Mr Hunt's handling of the dispute and his "dubious" use of research over the weekend effect.
She told MPs to impose a contract was "the biggest gamble with patient safety that this house has ever seen".
Dr Johann Malawana, the BMA junior doctor committee chair, said: "Our message to the government is clear: junior doctors cannot and will not accept a contract that is bad for the future of patient care, the profession and the NHS as a whole, and we will consider all options open to us."
Dalton: BMA was 'not serious about reaching a compromise'
1

2

3

4

5

Currently reading

Government will impose new junior doctors' contract