NHS Improvement chair wants stronger fit and proper person test
Baroness Harding says managers who "cross moral line" should not be "recycled"
Says she was "shocked by the absence of the sort of talent management"
NHS Improvement chair Baroness Harding has called for a much "firmer" fit and proper person test and pledged the regulator would stop "recycling" senior NHS managers who cross "a moral line".
In an exclusive interview with HSJ, Baroness Harding said she was concerned at the way the NHS approached talent management towards leaders guilty of misconduct and others who had not performed.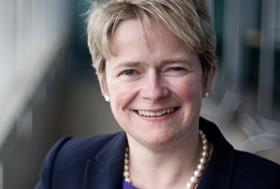 She said: "I think the service as a whole doesn't differentiate properly between people who have done something that has crossed a moral line, which means they should never be allowed to work in the service again, and people for whatever reason have not performed at an acceptable level in their senior job.
"The reality is that we have pretty much treated both groups in a similar way, which is a public beheading and then they pop up somewhere else and for neither of those groups is that the right treatment.
"I would like to see from the work the Care Quality Commission is leading with the [Department for Health and Social Care] is a much more upweighted fit and proper person test so that you stop people who genuinely shouldn't be working in our very precious health service ever again from popping up elsewhere.
"I also think we in NHSI need to lead work to properly manage the very senior talent in the NHS so that if you have been a CEO in a trust where the trust has performed very badly, and it is time for you to move out of that role, you are not just publicly beheaded and off you go; but that we support, coach, develop rehabilitate and build the confidence back of those individuals and help them work out what role they should, and would like to play, in the NHS and do that in a really structured way."
Her comments follow Bill Kirkup's report into failings at Liverpool Community Health Trust and HSJ revealing documents suggesting the NHS Trust Development Authority, now part of NHSI, "arranged" for the trust's former chief executive to be moved to another provider without informing its leaders of the shortcomings at Liverpool.
NHS Improvement has commissioned an independent investigation into the way jobs were "found or facilitated" for former directors at the trust.
The regulator was also criticised for its handling of former Wirral University Hospital Foundation Trust chief executive David Allison, who was offered a secondment at NHSI despite trust directors blowing the whistle over governance concerns.
Baroness Harding said unfit directors should not be found new jobs but "that requires us to have a much firmer fit and proper person test".
She continued: "Recycling the people who have crossed that moral line and shouldn't work in the service again – we will not do that.
"What we have to do as well is build a programme for rehabilitating and developing and appointing talent into maybe different or smaller jobs where people can continue to have really fulfilling jobs."
Baroness Harding said her focus on talent management was not just about leaders with poor behaviour. She said: "If I am really honest, I am quite shocked by the absence of the sort of talent management and performance management at the senior levels in the NHS compared to other organisations."
She cited the Foreign Office and armed forces as public sectors who managed talent in a "more structured and rigorous way".
"I think there is quite a long way to go not just for NHSI but for the service as a whole. Maybe I am too much of an optimist. I don't think a system that employs 1 million people is short of talent. I just don't think we have gone out to really nurture that talent," she said.
Managers who 'cross moral line' will be barred, warns NHS Improvement chair
1

Currently reading

Managers who 'cross moral line' will be barred, warns NHS Improvement chair

2