David Royles, chief executive of NHS Employers, addresses organisational approaches to getting the gags off staff
Of all the recommendations, analysis, commentary, follow up reports and actions that have come out of the review in Mid Staffordshire, the area that seems to get most press attention is raising concerns and whistleblowing.
There have been parliamentary questions and debate, health select committee hearings, public accounts committee sessions and almost daily press coverage.
The debate about it has been generally healthy. Everyone recognises a problem, everyone knows that guidance will only take us so far, and everyone accepts that not resolving underpinning cultural issues is bad for patient care.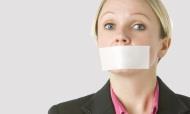 Some of the analysis is wrong though. For example the belief that every compromise agreement (now referred to as "settlement agreements") costs the NHS millions and were all used to gag people.
The National Audit Office report reflected that none of the NHS agreements it reviewed contained "gagging clauses". We also know that compromise agreements were used in many cases of mutually agreed resignations at the time of the reorganisation of our health care system.
The effect was that staff took half the amount of contracted redundancy from employers – saving millions, and with no question of patient care issues.
It is clear though, the legal language of the agreements and wording will have led some to believe they were gagged.
Safety clause
Since April 2013 there has been a requirement for employers to have a specific clause, making it explicit that any agreements do not prevent employee disclosure about patient safety issues.
In the last year we, as an organisation that represents employers in the NHS, have hosted a number of debates, webinars and seminars on raising concerns in the workplace. We have updated guidance and templates, as well as produced informative podcasts and videos - all aimed at raising awareness of good practice in relation to affecting cultural change.
'I believe that if you don't provide the spanners, people may take a hammer to try and fix it instead'
I know guidance isn't sufficient in itself. When I posted an update on Twitter recently, someone responded to a discussion about culture by saying: "Lots of shiny spanners doesn't mean you know how to fix the engine."
True - good point. However, I believe that if you don't provide the spanners, people may take a hammer to try and fix it instead. I hope you find the "spanners" in this special report helpful, as you review your local practices.
Dean Royles is chief executive of NHS Employers
HSJ special report: Whistleblowing
1

2

3

Currently reading

Dean Royles: Tools to mend the culture problem

4