Sixty-three provider trusts identified for excess pay bill growth since 2014 and face potential cuts of £356m
This has been calculated by halving the excess growth above the level of inflation since 2015-16
One chief executive says NHS Improvement's figures ignored the historical baseline of poor staffing
More than 60 NHS trusts have been targeted for over recruiting staff since 2014 and may be financially penalised by NHS Improvement, HSJ can reveal.
In total 63 providers have been identified as having £356m of "excess growth" on their pay bill. HSJ understands trusts have been told that, if they could not justify the pay bill growth, some or all of the value would be added to their 2016-17 control total – meaning it would be a financial penalty.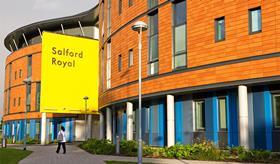 NHS Improvement said this was necessary to "dial back" pay bill growth in the NHS.
The figure has been calculated by totalling pay growth between 2014-15 and 2016-17, then subtracting a figure for inflation in each year and halving the result. NHS Improvement has used inflation figures of 1.5 per cent for 15-16 and 3.3 per cent for 2016-17.
One chief executive told HSJ the calculations ignored the "historical baseline" of poor staffing and would lead to cuts to frontline nurses which they said could impact on patient care.
Among the trusts named for excess pay growth include Salford Royal Foundation Trust, which could potentially face £2.76m of cuts.
University Hospitals of Leicester Trust faces the largest potential target with £21m identified as a saving from its pay bill. Royal Devon and Exeter Foundation Trust has the second largest potential cuts of £15.6m.
Barts Health Trust faces a £14.7m figure, Imperial College Healthcare Trust has been given a £14.6m total while Tameside Hospital Foundation Trust has been told it might have to find £14.4m.
In today's financial re-set document, NHS Improvement said it would work with providers to determine the final amount.
It said: "Analysis of 2015-16 cost trends and 2016-17 plans indicates significant growth in excess of inflation and pension effects in 63 providers totalling £356m on a part-year basis. NHS Improvement is working to support these providers to identify by the end of July how much of the planned growth can be eliminated and how far they can reverse the often unplanned and unmanaged cost growth that occurred in 2015-16…
"Some of the reported growth will doubtless reflect structural factors and genuinely unavoidable investments, including in the context of CQC inspection findings, and the analysis is based on plan submissions before final control totals were agreed with some providers. However, this review process will result in a 'dial back' of excess cost growth where this is possible, including reductions in agency staff, resulting in reduced levels of deficit across the provider sector."
The document said work by NHS Improvement to develop new safe staffing guidelines following the suspension of NICE's work in June last year would be used to support this effort with what it said would be new metrics that would enable "more appropriate benchmarking and assessment of required staffing levels".
Trusts where the amount to save was less that £2m have been excluded as have trusts planning a surplus this financial year.
Ambulance trusts were excluded from the paybill analysis by NHS Improvement.
This story was amended on 28 July to clarify that NHS Improvement has said that trusts may have overrecruited or be overspending on staff, but not that they necesserily have. It is understood that they have been told their control totals may therefore be adjusted, but not that they necessarily will.
On 29 July we published a new piece, Mackey: Pay bill growth list was 'intended to start a discussion', after NHS Improvement provided an additional statement on the issue.
Fourteen trusts and CCGs put in 'financial special measures'
1

2

3

4

Currently reading

Trusts may face financial penalties for over-recruiting staff

5

6

7